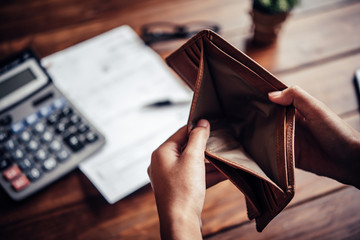 Experiencing stress and anxiety due to dealing with financial hardships?
Many are laid off due to the global pandemic, worry plagues you every minute of the day, the anxious thoughts of "how am I going to make ends meet," the sleepless nights have you sleep deprived. When financial problems have you in a constant state of panic, it can be an all-consuming worry that robs you of your peace. It can even worry you to the point where it causes problems in your health and relationships.
So, how do you overcome worry and anxiety about your financial situation and get your peace back that God intends for you to have? One of the things you should do is dig deep to the root of what caused you to be in this situation in the first place. I don't mean being laid off:
Did you lose your job and no emergency fund in place?
Did you constantly overspend and had no savings account?
Living pay to paycheck?
Do you have a pile of overdue bills?
The Word of God says, "Beloved, I pray that you may prosper in all things and be in health, just as your soul prospers (3 John 1:2).
God wants you to prosper in all things, and money is no exception. He doesn't want you struggling or worrying about money. God wants you to have what you need, and even to have excess. But there is something you have to do in order for his blessings to flow in your life.
Give. The scripture says in Malachi 3:10,"Bring the full tenth into the storehouse so that there may be food in My House. Test Me in this way," says the LORD of Hosts. "See if I will not open the floodgates of heaven and pour out a blessing for you without measure." It doesn't seem logical to give when you are dealing with financial hardships, but it is a biblical principle of "sowing and reaping." You cannot reap where you have not sown. You have to sow your way out of financial hardships and God says, "try me in this and see won't I open up the windows of heaven." It is the one place in the Bible God tells us to "try Him." Become a tither and a giver and see what God does for you!
Have faith. Sometimes it can seem like its impossible to have faith that God will take care of you. Understand that God is your source and He has the ability to change your situation around for your good. But you have to believe that. You have to trust that no matter what your circumstances look like in the natural. Your circumstances don't dictate how or when God can bless you. Even in the midst of the pandemic you can trust God to see you through.
….Never will I leave you, never will I forsake you" (Hebrews 13:5).
Keep the Right Perspective. If you expect God to move on your behalf, don't murmur, complain or spend time playing the blame game. When you speak of your financial situation, speak God's Word over your situation not negativity and doubt. What comes out of your mouth is an indication of what you believe. Out of the abundance of the heart the mouth speaks (Luke 6:45). Don't speak negativity, speak life.
Act. Learn about financial literacy and money management. We have to learn how money works and stop allowing it to work us. Some of us live above our means, some of us have bills that exceed our income, some of us are compulsive shoppers. We can't sit by and just hope things get better, waiting for money to fall out of the sky doesn't work, so work your way out of financial hardships—it starts with a mentality change, while relying on God to show you the way.
Be Patient. It's easy to become discouraged when things aren't happening as quickly as we would like them to. Remember God's timing is always perfect. Just because you see little to no progress in your situation doesn't mean He's not moving on your behalf.
These things will help you in battling your financial hardships and keep you from going in cycles, never getting past it. Financial problems don't have to permanent, "poor is a condition, poverty is a mentality." No matter where the economy is headed, God can make a way where there seems to be no way!!!