It's not always necessary to plan an African safari or trips to national parks and wildlife reserves in order to spot exotic wildlife. In fact, many of the world's biggest urban centers are home to a fascinating array of creatures. You'd be amazed by the fauna you can spot in environments usually reserved for cars and pedestrians. From London's free-roaming fallow deer to the coyotes of Chicago, these major cities are home to some unexpected wild animals.
Berlin, Germany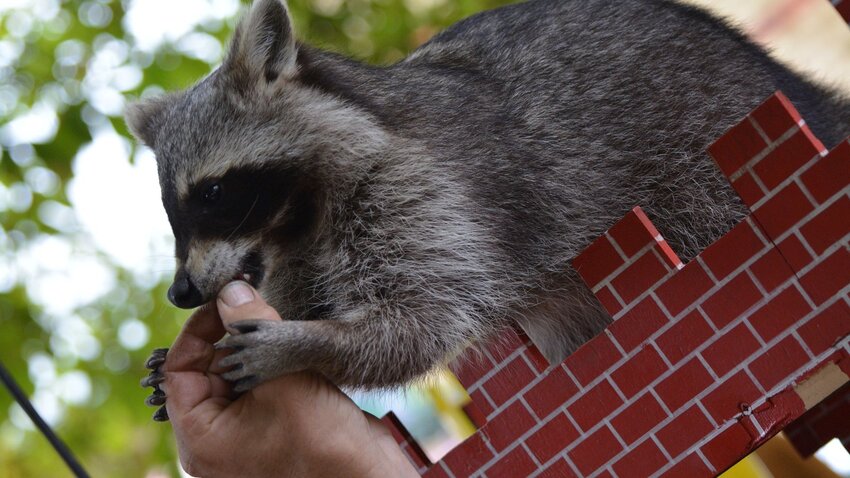 Germany's capital and biggest city is more well-known for party animals than wildlife. Yet there are plenty of interesting critters that share the city's historical streets with its 3.7 million inhabitants. Raccoons were brought from North America by German farmers in the early-1900s, when fur coats were fashionable. About 25 escaped into the wild and began to breed after a bomb landed on a farm in east Berlin during World War II. More recently, the furry black and white mammal has been known to leave its woodland homes and venture into central Berlin and other cities. A drunken raccoon was spotted at Christmas market in Erfurt in 2019.
Wild boars are also known to mingle with Berliners on a regular basis. One day they'll stampede through the Zehlendorf district, and the next, they'll steal a naturist's laptop at Teufelssee Lake.
Check here for foxes, the white-tailed eagle, and other city wildlife besides night owls.
Cape Town, South Africa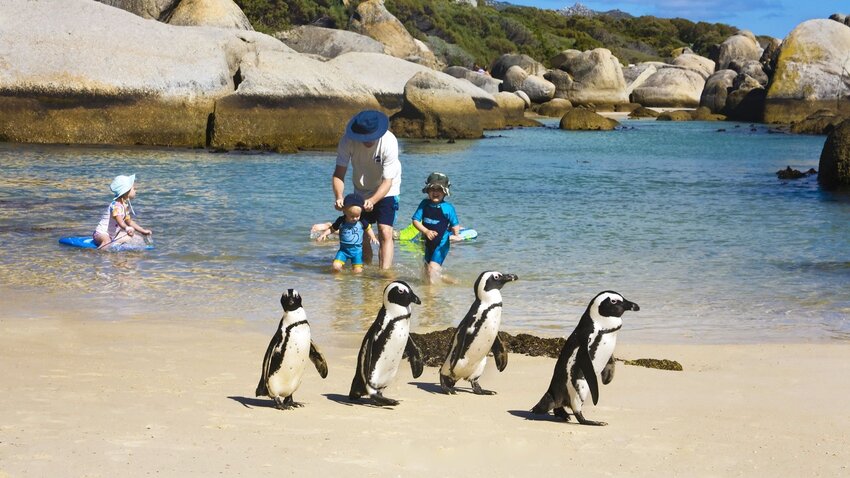 The Mother City is called home by so many animals that you could plan a mini safari just by traveling around the city's suburbs. Bryde's, humpback and southern right whales all visit the city's waters. The southern right whale is the most common, and can be spotted between June and November around the False Bay shoreline.
More wonderful aquatic wildlife awaits at Boulder's Beach, in Simon's Town. This is one of the few places on the planet where it's possible to swim and walk alongside African penguins. A short boat ride from Hout Bay Beach, Duiker Island is home to a colony of Cape fur seals. The seals often rest on the quays of the V&A Waterfront, too. And those that travel up to the emblematic Table Mountain can get up close with everything from antelope to mongoose and the rock hyrax, which is the elephant's closest living relative.
Chicago, USA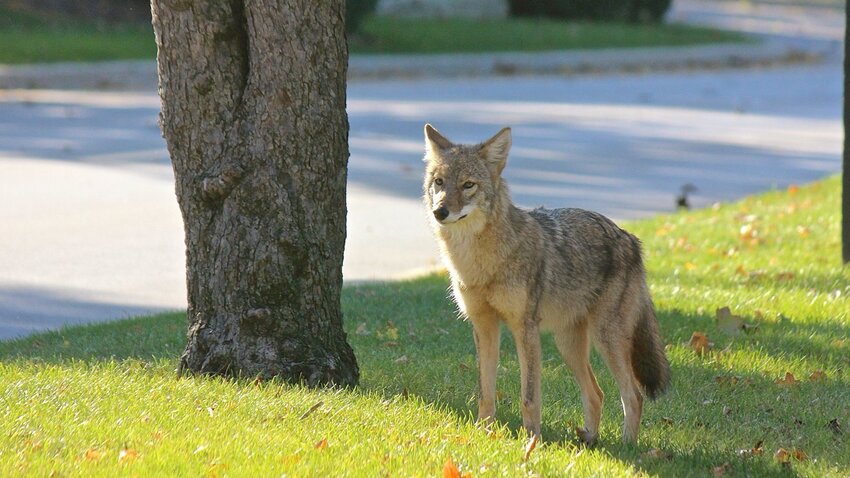 Despite having a baseball team called the Cubs and a football team called the Bears, there aren't any bears prowling the streets of Chicago today. However, there's estimated to be between 2,000 and 4,000 coyotes living in the city and around Cook County. Most coyotes find refuge in Chicago's parks, golf courses, quiet suburbs and along the lakefront of Lincoln Hill. Such is their ability to adapt to an urban lifestyle that the Urban Coyote Research Project was established in 2000 to monitor their behavior.
Above ground, Chicago's skies are a haven for varied birdlife. On any given day it's possible to spot the black-crowned night heron, monk parakeet, and snowy owl. Illinois also welcomes the largest numbers of migratory bald eagles outside of Alaska, with South Side's Lake Calumet being one of their favored spots.
London, England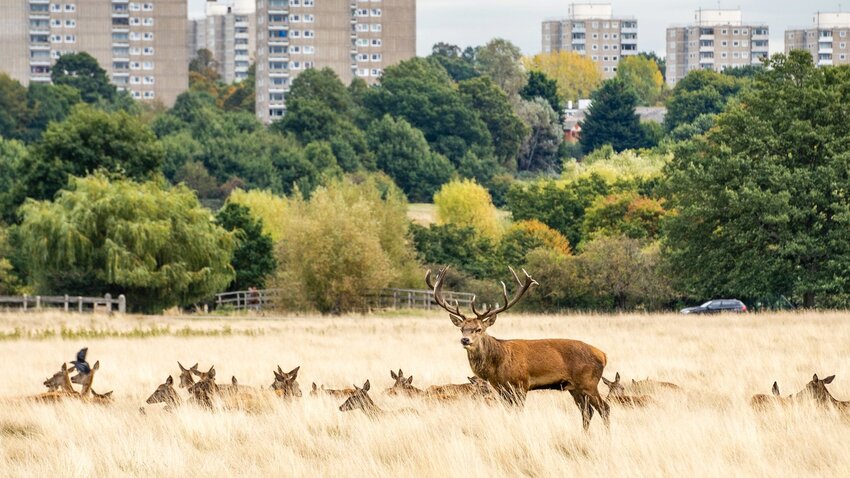 As one of the world's greenest capitals and the first designated National Park City, one might expect London to be animal friendly. While that's true, one of the city's biggest populations of critters lives below ground level in the London Underground. About half a million mice scurry around the station platforms, tunnels and train tracks. They live off food scraps left behind by commuters and have even been known to come to boxer-style blows.
Perhaps more appealing to the eye, and easier to spot, are the 600-plus fallow and red deer that roam Richmond Park. They've been there ever since King Charles I created the park as a hunting ground in the 17th century. In the same century, pelicans were introduced to St. James's Park after being gifted to King Charles II by a Russian ambassador, and they continue to bask on the lakeside rocks today. Elsewhere, seals are common at Canary Wharf, and urban foxes have shown signs of domestication.
New York City, USA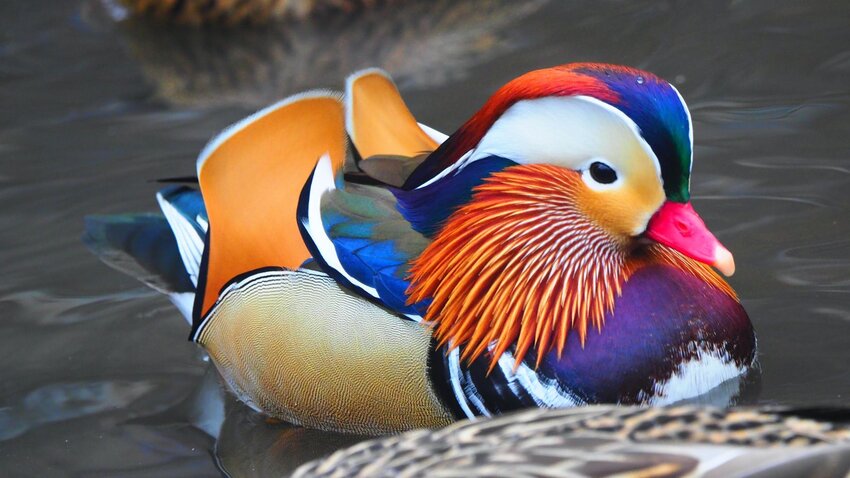 Birding might not top your list of things do in the Big Apple, but you'll be surprised by how many winged and feathered animals there are in the city. One of the world's biggest populations of urban peregrine falcons nest on the bridges that cross the Hudson River, and in Brooklyn you can see large colonies of monk (or Quaker) parakeets. The rumour goes that thousands were shipped to pet stores from Argentina in the 1960s, but many escaped into the urban wilds from the cargo hold at JFK. Across the river in Manhattan, ducks, orioles, owls, and warblers inhabit Central Park and can be observed with the help of a bird-spotting expert.
Thanks to improving water quality, New York is witnessing regular dolphin and whale sightings. Whale numbers alone jumped from five in 2011 to 272 in 2018. The majority are humpbacks, yet blue, fin, minke and sperm whales often pass by. See them from April to August from Coney Island, Rockaway Beach and other locations that you can reach via the subway.
Sydney, Australia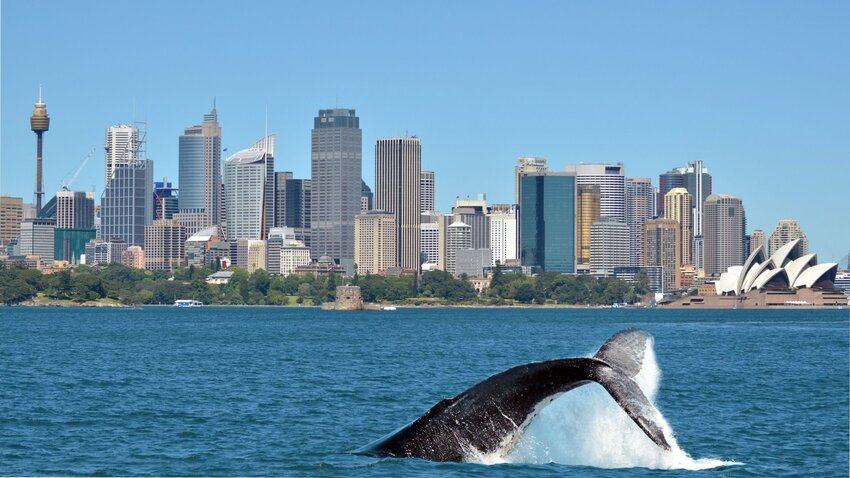 A recent survey by the Australian Museum reported 600 fish species currently living in Sydney Harbour. While you might not see many of them with the naked eye, there are several vantage points for watching migrating humpback and southern right whales. The city's parks and gardens are natural habitats for endangered species such as the eastern bent-wing bat, grey-headed flying fox and powerful owl. Flying foxes are particularly common in the treetops of the Sydney Botanical Garden.
Like with any urban wildlife, it's advisable to maintain a safe distance. This is especially true of the Sydney funnel-web spider, which is among the world's most venomous spider. It has a habit of hanging out in back gardens, so be warned. Fortunately though, there have been no recorded fatalities since 1981 and only 13 since records began.
Australia's emblematic kangaroos and wallabies occasionally give visitors to the Australian National Botanical Gardens a treat. Seeing them in downtown is more of a rarity, although local police did chase one across Sydney Harbour Bridge in 2018.About the author: Bradley O'Neill | Writer for The DiscovererFrom as early as he can remember Bradley was road-tripping across the UK, France and Spain with his family. Since then he's visited 40-plus countries and lived on four continents. Today he divides his time between Buenos Aires and the beaches of Punta del Este, Uruguay and puts his wanderlust to good use by writing about his travels.