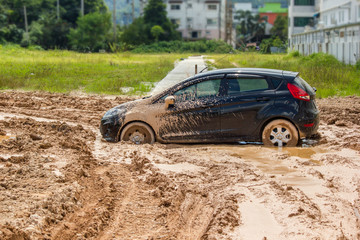 Have you ever felt stuck? If you ever gotten your vehicle stuck in a ditch and tried to shift gears to get out of the hole, then you have an idea of what being stuck feels like.
It's not always easy to get out of a situation and become unstuck. Sometimes it can be frustrating and what you thought was meant to help propel you to another level instead hinders your process. I found in life, as with cars, shifting gears can be challenging. But as I navigate through this tedious journey called life, I'm discovering there are some things we have to do in order to make the shifting our steppingstone and not a hindrance. If you are shifting gears in your life, then you will understand this message and if not let me explain.
Let go of the past. Sometimes we get stuck in the past because we are holding on to hurts, relationships that didn't work out or what is comfortable and doesn't challenge us and a plethora of other things. You must leave the past behind and embrace the season you are in.
Let go of the doubts. If we are not careful, we can fall into the trap of double mindedness. We say we want the promises of God, but we hesitate on stepping out on what we believe God has called us to do because we are doubtful that things will work out or that we will ever become more than what we are. We say we want to move forward, but we are like a rocking chair that moves back and forth but doesn't go anywhere. Faith requires you to move.
Welcome the help of those God has placed in your life. We are not supposed to go at life on our own. God uses people to help push us to our next level. The community of faith are there to encourage you and build you up in the faith. Allow them to pray for you and stand in agreement for your situation.
Stay close to your shepherd. "I will give you shepherds out of my own heart to feed you with knowledge and understanding" (Jeremiah 3:15). It's comforting to know that the shepherd comes out of the heart of God and is there to help get our minds together through the truths of God's Word, especially during vulnerable times when we don't know where to turn.
Starting today seek the Lord daily and thank Him for His direction and the plans He has for you. Express your love and gratitude for His faithfulness and tell Him that you trust Him with every aspect of your life. If you are in transition, know that God will never leave you nor forsake you.