State Parks are giving National Parks a run for their money, drawing an average of 807 million visitors annually.
So, what's with all the hype? Well, for one, each state has a ton of protected land with State Park designation – a whopping 18,694,570 acres, to be exact. With 8,565 parks and 14,672 trails to explore, chances are there's a beautiful park right in your backyard.
But if proximity isn't enough to entice you, our State Parks are also known to offer the same amount of grandeur, history, and natural beauty as any other wild place in the states. As a tribute to our beloved State Parks, we've put together a list of the best State Park in each of the 50 states.
DeSoto State Park, Alabama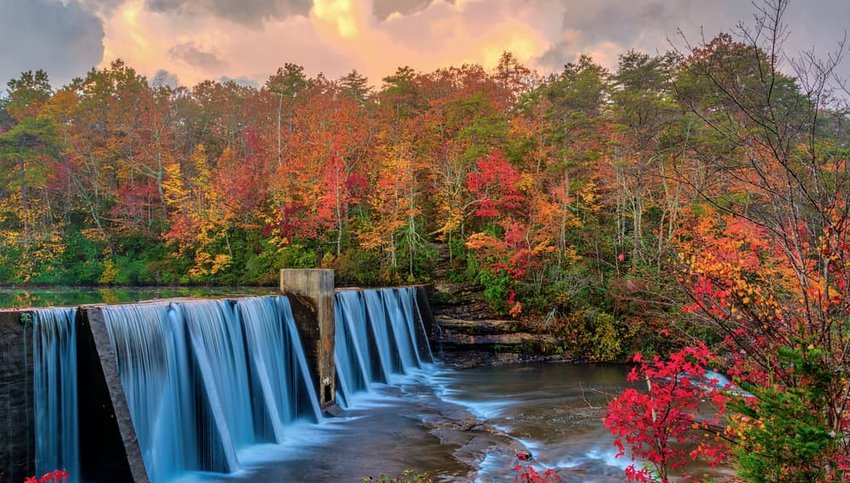 Sweet home Alabama, where the skies are blue and the waterfalls are 104-feet tall. It's no surprise that when Alabamians want to escape to the woods, they head to DeSoto State Park. Accentuated by rushing waterfalls, vibrant wildflowers, and rustic mountain terrain, DeSoto State Park covers over 3,500 acres, features 25 miles of hiking trails, and is the perfect place for a peaceful weekend away.
Park Highlights: Spend the day admiring breathtaking fall foliage or visit the 104-foot DeSoto Falls – the tallest waterfall in Alabama.
Chugach State Park, Alaska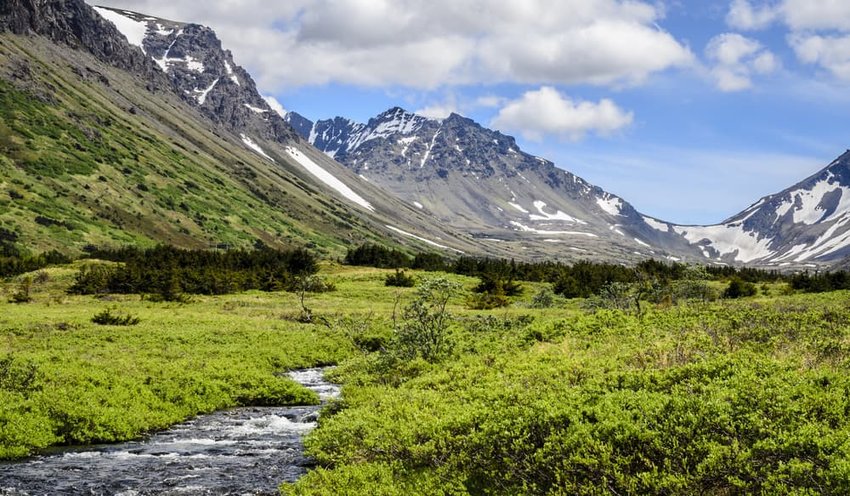 Anyone that says everything is bigger in Texas, has never been to Chugach State Park in Alaska. Often referred to as Alaska's most accessible natural area, Chugach State Park is 495,000 acres, making it one of the largest state parks in the country. Surrounded by quintessential Alaskan terrain, the Alaska Range, Chugach Mountains, Wrangell Mountains and Prince William Sound construct the park's incredible landscape.
Park Highlights: Make the hike to Flattop Mountain, the most traversed mountain in Alaska, or spend time at the Eagle River Nature Center to view wildlife and hike the Albert Loop Trail.
Red Rock State Park, Arizona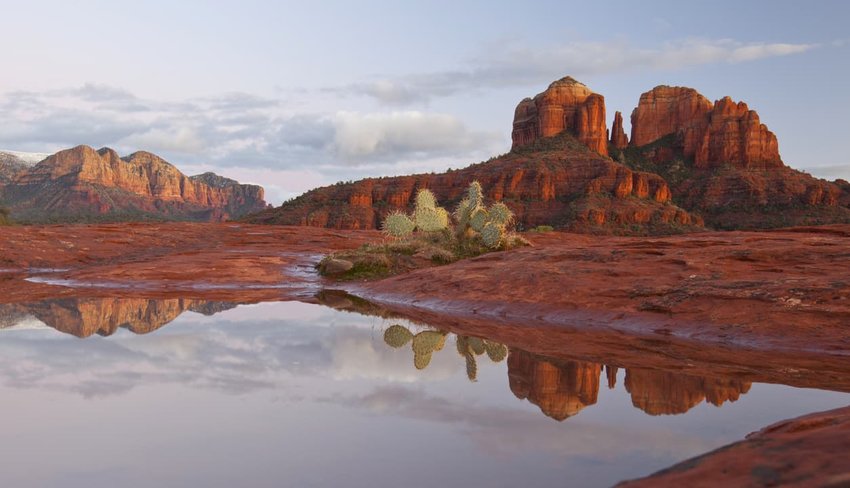 Red Rock State Park isn't your everyday desert landscape. In fact, this 286-acre nature preserve is home to lush green meadows, juniper, Manzanita, and is adorned with miles of striking red rock formations. The park offers 5 miles of interconnected, family-friendly trails that traverse a variety of unique desert habitats.
Park Highlights: Take a scenic drive along Arizona State Route 89A which winds its way through Oak Creek Canyon and provides several places to pull over and picnic or snap photos of incredible, colorful rock formations.
Mount Magazine State Park, Arkansas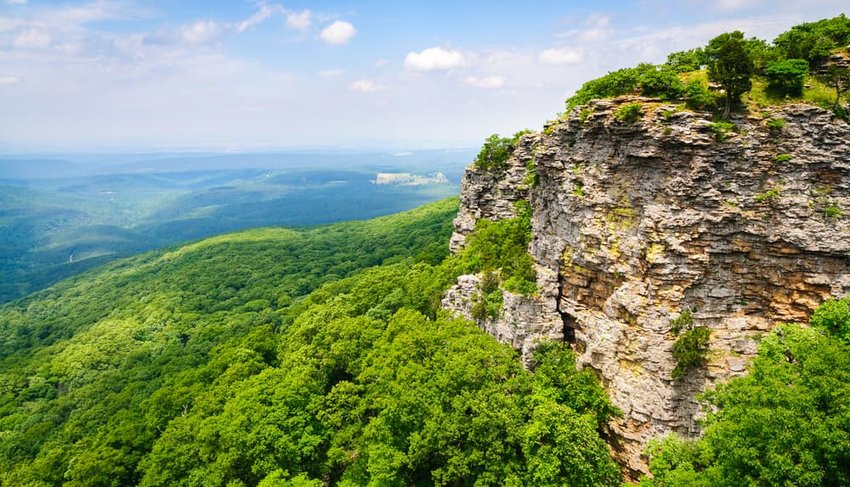 If you're having a hard time deciding on one of Arkansas 52 state parks, Mount Magazine should be a top contender. Arguably one of Arkansas most dramatic landscapes, Mount Magazine State Park features the state's tallest mountain and is home to one of the last remaining virgin forests.
Park Highlights: Hike the Signal Hill Trail, a short hike that takes you to the highest point in the state of Arkansas — Mount Magazine.
Humboldt Redwoods State Park, California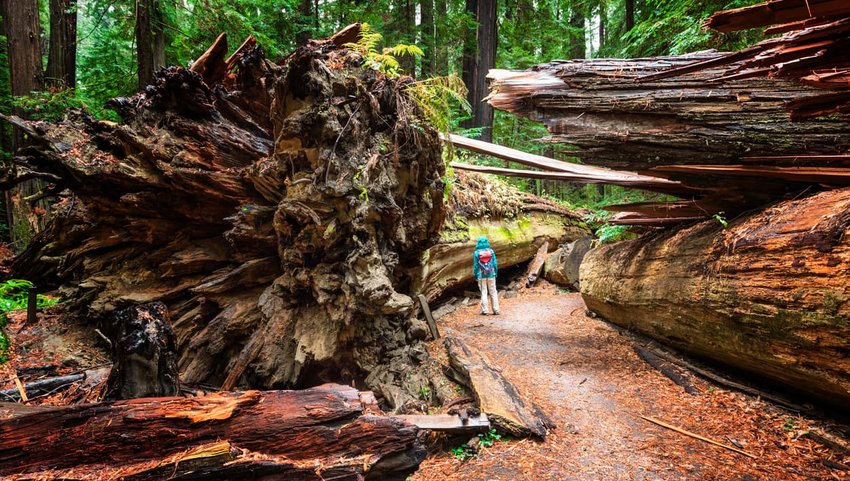 If you're looking for the largest old-growth coastal redwoods in the world, look no further. Humboldt Redwoods State Park is California's largest redwood state park and offers visitors more than 100 miles of trails, 17,000 acres of ancient old-growth groves, and the unique opportunity to hike beneath trees that are thousands of years old.
Park Highlights: Drive along the 32-mile Avenue of the Giants scenic drive and stop at notable landmarks like one of the last remaining drive-thru redwood trees, Shine Drive Thru Tree, or Rockefeller Grove, home to the largest tree in the park.
State Forest State Park, Colorado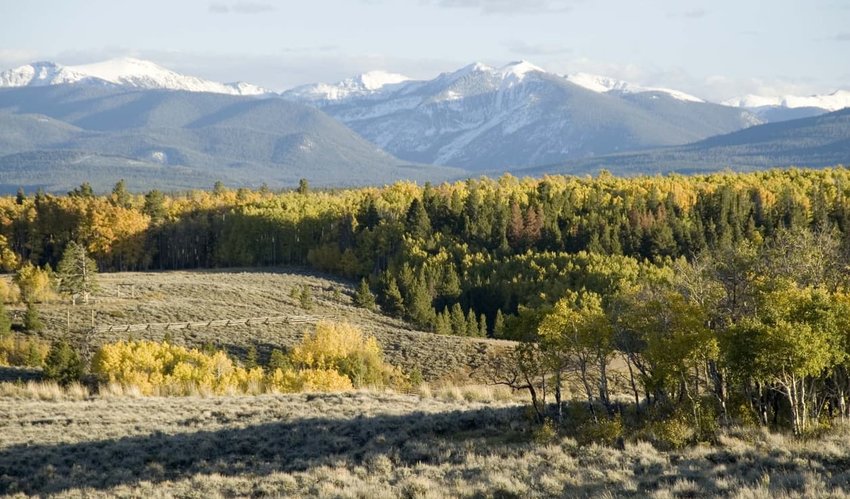 Typically, people travel to Colorado to explore the Rockies, but visitors to State Forest State Park have the unique opportunity to hang out in the self-proclaimed moose viewing capital. But don't worry, if you came to Colorado for craggy mountain peaks, State Forest State Park is 71,000 acres of classic Colorado terrain. Surrounded by the Medicine Bow Mountains and Never Summer Range, visitors to State Forest State Park can hike, bike, camp, or explore rugged peaks, alpine lakes, and acres of dense forest.
Park Highlights: With a population of over 600 moose in the park, moose sightings are the State Forest's claim to fame. Take a drive, bike, walk, or hike throughout the park in search of moose. Just remember to keep a safe distance from wildlife.
Gillette Castle State Park, Connecticut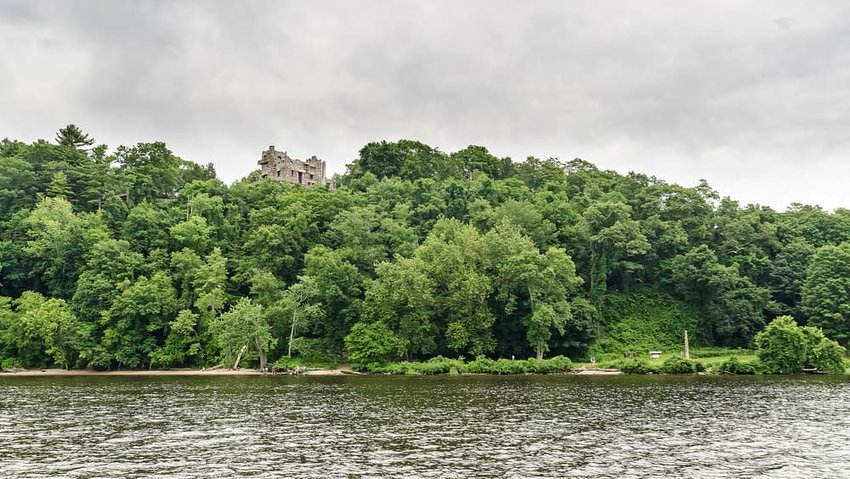 Gillette Castle appears to be straight from a fairytale, but its construction was actually the quirky, creative genius of famous playwright, actor, and director, Hooker Gillette. Nestled along the southerly hill of the Seven Sisters, Gillette Castle State Park is more than a historic mansion, it offers 184-acres of breathtaking scenery and the unique opportunity to see rare geological formations and crystals on the trail.
Park Highlights: The Gillette Castle is an obvious highlight, but to get the most out of your visit, hike along Hooker Gillette's very own designated footpaths. Several small trails are constructed along stone-arch bridges, wooden trestles and through tunnels along the Seven Sisters hillside.
Cape Henlopen State Park, Delaware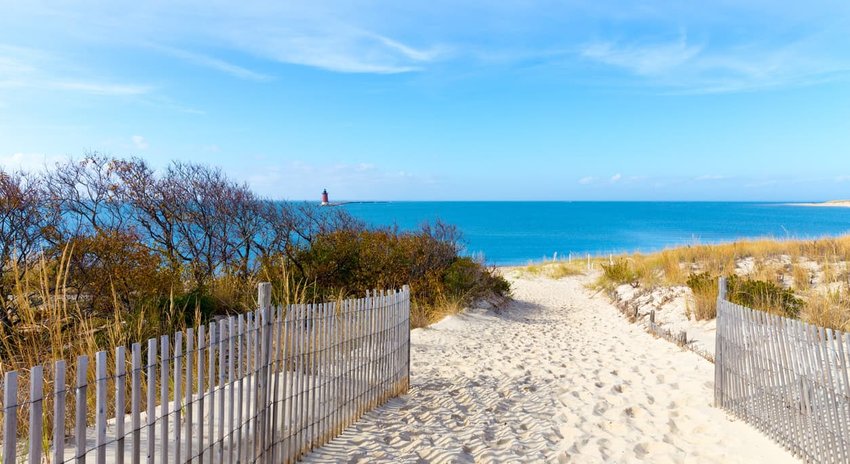 Offering scenery straight from a Delaware postcard, Cape Henlopen Lighthouse stands watch over the historic waterways and beaches of Cape Henlopen State Park. A popular destination for Delaware beachgoers, Cape Henlopen was one of the first public lands established in the United States, making its 5,193 acres a significant piece of history. Today, visitors can take advantage of six miles of pristine shoreline and scenic hiking trails.
Park Highlights: "The Point" offers the perfect place to catch a spectacular sunset or take a stroll on the beach. Keep in mind, The Point is closed from March 1 to September 1, for beach nesting season.
Ichetucknee Springs State Park, Florida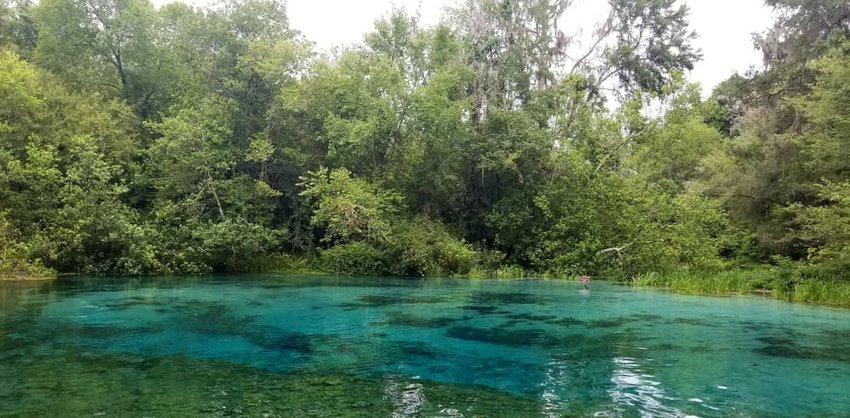 How many times can you say you've floated through a state park on an inner tube? While Florida may have a reputation for being the go-to state for beautiful beaches, when the weather warms up, you'll find High Springs locals floating down the 6-mile, crystalline Ichetucknee River. Fed by nine natural springs, the Ichetucknee River flows through shaded hammocks and wetlands into the Santa Fe River. Visitors can enjoy its pristine turquoise waters year-round.
Park Highlights: From Memorial Day to Labor Day tube down the river! You can bring your own boat or rent a tube from a nearby outfitter, just make sure to leave your food and drinks in the car — these items are not permitted on the river.
Cloudland Canyon State Park, Georgia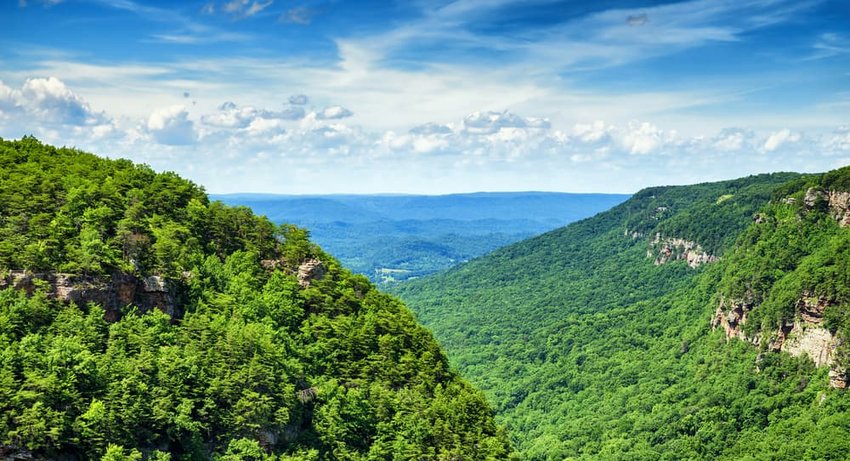 Nestled at the edge of Lookout Mountain, Cloudland Canyon State Park is one of the largest and most scenic state parks in Georgia. The park contains rugged canyons, vistas, caves, cascading waterfalls, and sandstone cliffs.
Park Highlights: Hike the Overlook Trail, Waterfalls Trail or West Rim Loop Trail for stunning views.
Waimea Canyon State Park, Hawaii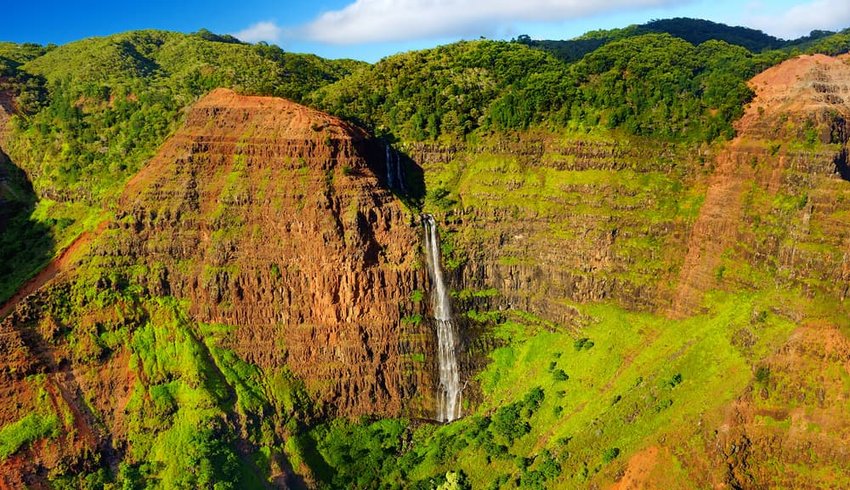 You'd be hard-pressed to find a place that isn't paradise in Hawaii and Waimea Canyon State Park is no exception. Aptly nicknamed the "Grand Canyon of the Pacific," Waimea Canyon is 14 miles long, 1 mile wide and more than 3,600 feet deep. Colorfully decorated in red, brown and green hues, this incredible landscape was carved out millions of years ago by the Waimea River and volcanic activity.
Park Highlights: There are a number of accessible, scenic viewpoints that provide sweeping views of the canyon. Hike the Canyon Trail to experience 800-foot Waipo'o Falls and the Kumuwela Lookout or visit two roadside scenic lookouts, Puu ka Pele and Puu hinahina.
Bruneau Dunes State Park, Idaho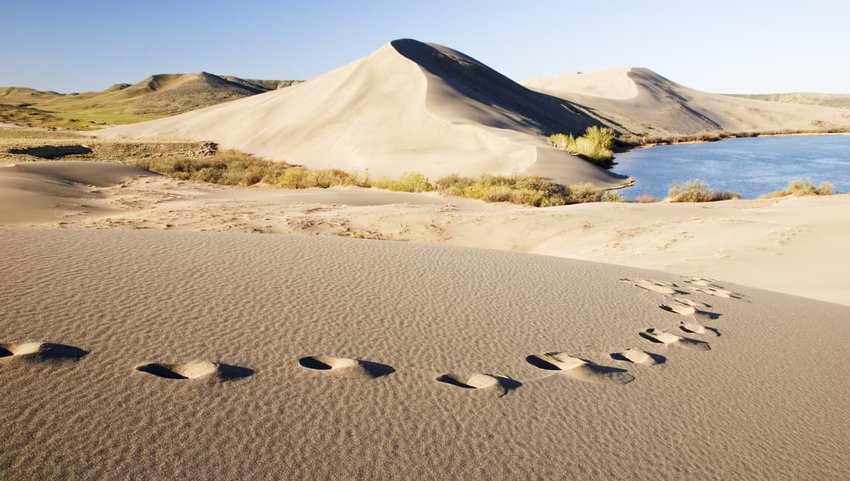 Grab a sandboard and cruise down the tallest free-standing sand dune in North America at Bruneau Dunes State Park. The park is a popular destination for travelers who love to blaze their own trail, mostly because there are little to no restrictions for exploring. Simply park the car and start your ascent to the top of the dunes.
Park Highlights: After exploring the dunes, check in with the Bruneau Dunes Observatory to spend an evening stargazing and learning about the cosmos.
Starved Rock State Park, Illinois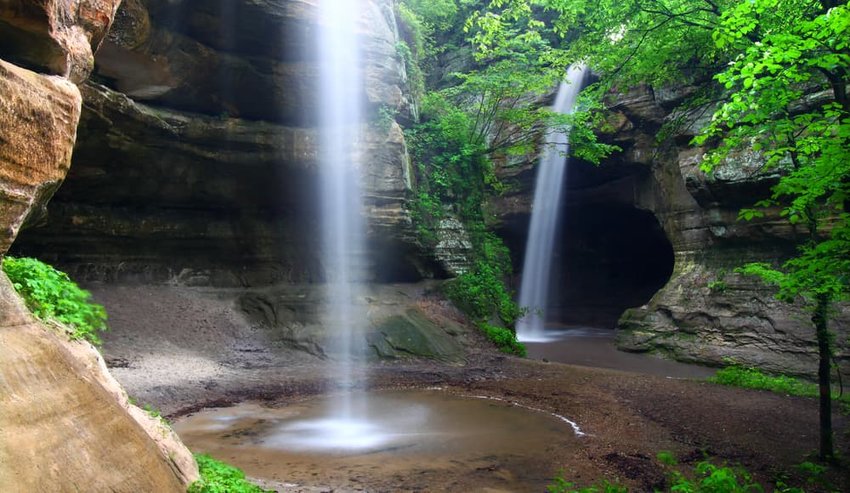 Located on the Illinois River bluff in La Salle County, Starved Rock State Park is the crown jewel of the Illinois State Parks. The park features 18 canyons with vertical walls formed by glacial meltwater, 13 miles of trails that spotlight waterfalls, natural springs, tree-covered bluffs, and dramatic sandstone overhangs.
Park Highlights: Hike to the St. Louis, French, Wildcat, Tonty, Ottawa or Kaskaskia canyons to experience iconic (seasonal) waterfalls, towering canyon walls and what are considered by many to be some of the most awe-inspiring rock formations in the Midwest.
Brown County State Park, Indiana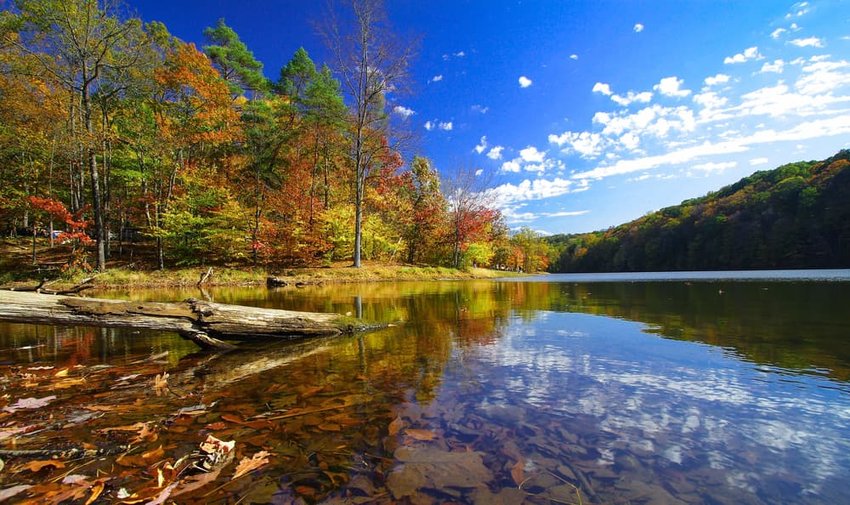 Grab yourself a pumpkin spice latte and venture into the fall foliage capital of Indiana: Brown County State Park. Nicknamed the "Little Smokies" Brown County encompasses 16,000 acres of forestland, rugged hills and rolling ridges. The largest park in Indiana, Brown County is the perfect place to escape the city and catch a sunset above the treeline.
Park Highlights: Climb, at your own risk, to a 90-foot Fire Tower for panoramic views of the surrounding wilderness.
Backbone State Park, Iowa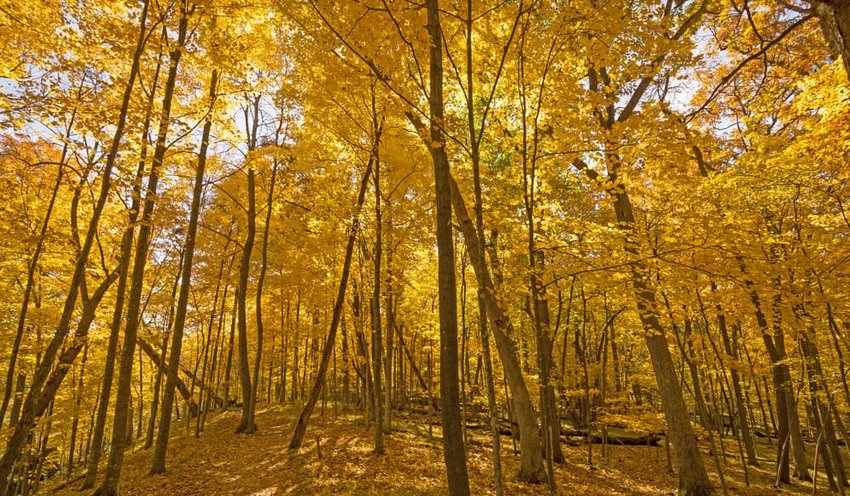 There's a first time for everything and for the state of Iowa, Backbone State Park was the state's first documented attempt to protect and preserve natural land. The park was named for a narrow ridge of bedrock carved by the Maquoketa River, nicknamed the "Devil's Backbone." Today, the park consists of 2,000 acres of heavily forested land and 21 miles of hiking trails to explore.
Park Highlights: Hike the Backbone Trail, a short trail that traverses rocky terrain to the tallest point in Iowa.
Historic Lake Scott State Park, Kansas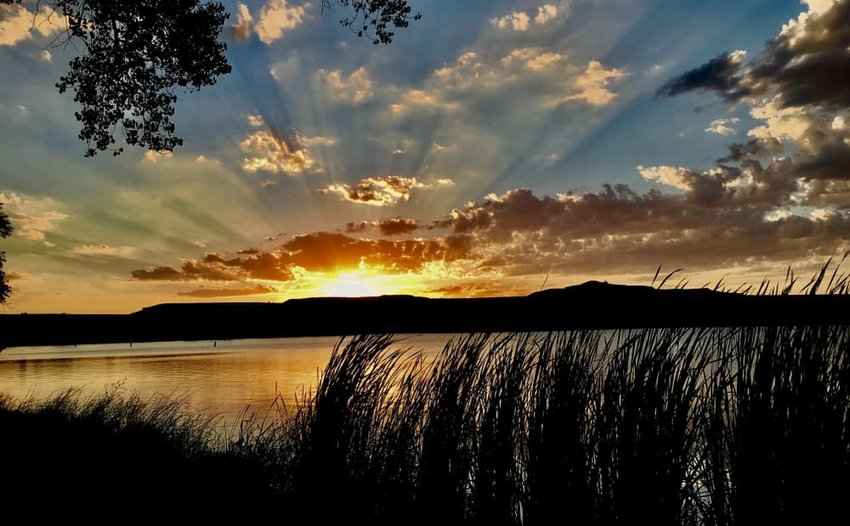 A surprisingly rugged canyon hidden within a western Kansas prairie marks arguably the most historic location in the Bluegrass State: Lake Scott State Park. At 1,020 acres, Lake Scott State Park is home to more than 26 documented archeological sites, including the remains of what is considered the northernmost Native American pueblo – El Cuartelejo.
Park Highlights: Visit the El Cuartelejo Ruins and the Historic Steele home, or enjoy a variety of water recreation opportunities at the 100-acre, spring-fed Scott State Fishing Lake.
Natural Bridge State Resort Park, Kentucky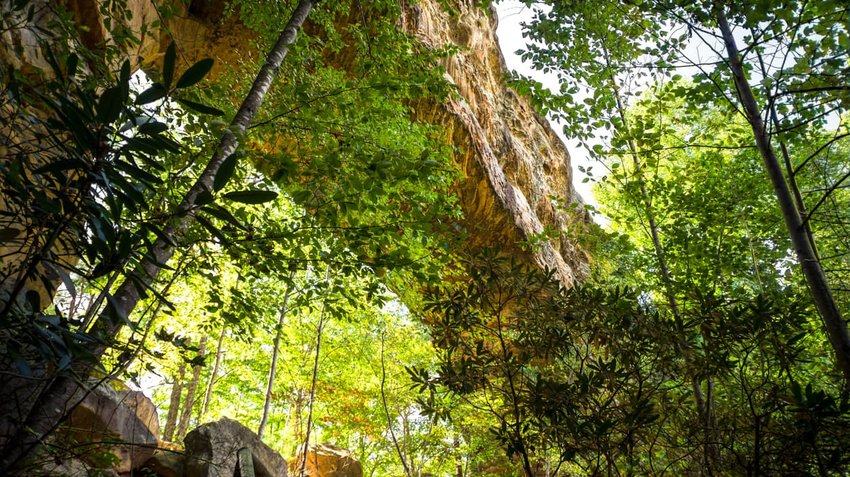 Tucked within the Daniel Boone National Forest, Natural Bridge State Park is a 2,300-acre park that features, you guessed it, a magnificent, natural sandstone arch. Its namesake bridge spans an incredible 78 feet and reaches 65 feet high, towering over an area nicknamed, "Kentucky's Land of Arches." Despite its name, the park highlights more than just one notable landmark and offers over 20 miles of hiking trails to famous Kentucky sights like Fat Man's Squeeze, Balanced Rock, and Lover's Leap.
Park Highlights: Enjoy a picturesque, ridge-top view from the park's skylift or trek one of 7 unique trails to the top of Natural Bridge.
Fontainebleau State Park, Louisiana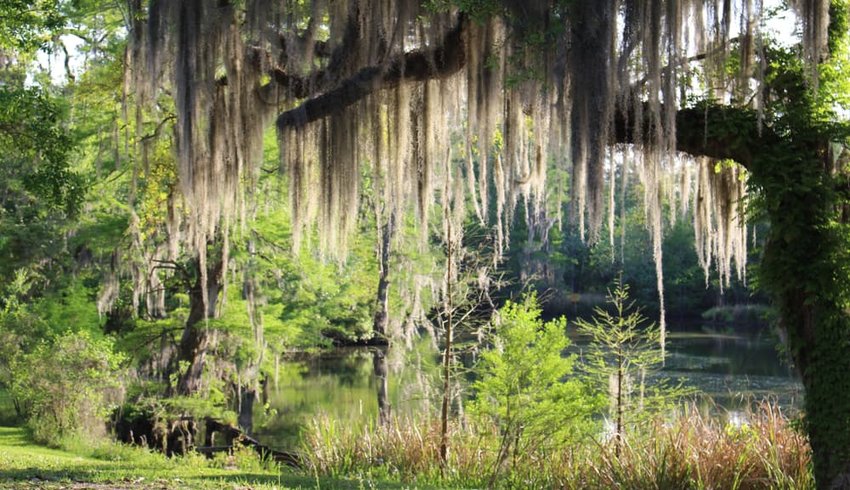 Just outside of the bright lights and buzz of New Orleans, visitors seek stillness in Fontainebleau State Park. A 2,800-acre outdoor retreat, Fontainebleau is surrounded by water on three sides, making it an ideal place to soak up the sun in a kayak, canoe, or along the shores of one of its man-made beaches.
Park Highlights: Bike, walk, or horseback ride along one of the state's most treasured areas, Tammany Trace, an old Illinois Central Railroad turned paved path that traverses portions of the park.
Baxter State Park, Maine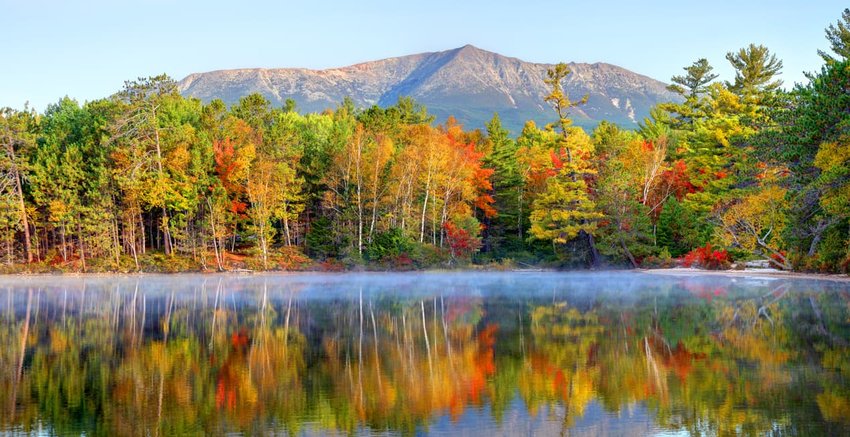 Acadia National Park might be Maine's most popular park, but there is another noteworthy gem in the pine tree state that you'll want to add to your bucket list. Baxter State Park offers over 209,000 acres of pristine Maine wilderness to explore, including Mount Katahdin, Maine's highest peak. Baxter State Park is a tribute to beloved governor Baxter, who donated money and land to preserve and protect Maine's most pristine mountain terrain.
Park Highlights: Get a taste of the famed Appalachian Trail and hike Maine's signature mountain, Mount Katahdin, via the Hunt Trail or Knife Edge Trail.
Assateague State Park, Maryland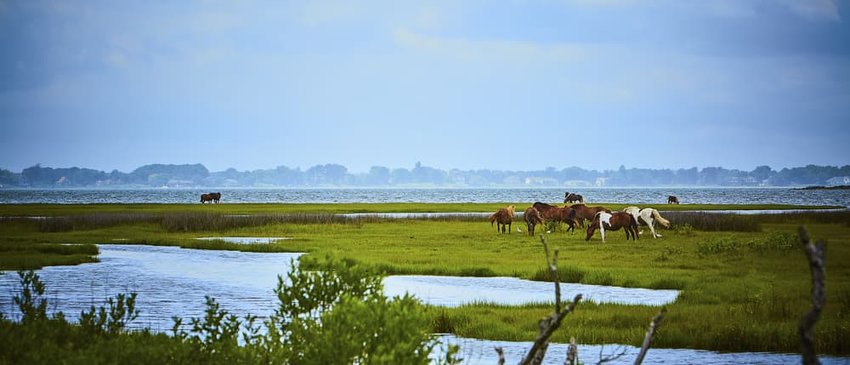 Assateague State Park, Maryland's only ocean park, is located on the Assateague Island and is bordered by Assateague Island National Seashore. After crossing the Verrazano Bridge to reach the park, you can soak up the sun on two miles of ocean beaches, explore hidden coves via canoe or kayak, or head to marshy areas to view local wildlife.
Park Highlights: After spending the afternoon exploring the park, head to Rackcliffe House, a restored 18th-century coastal plantation overlooking Sinepuxent Bay.
Bash Bish Falls State Park, Massachusetts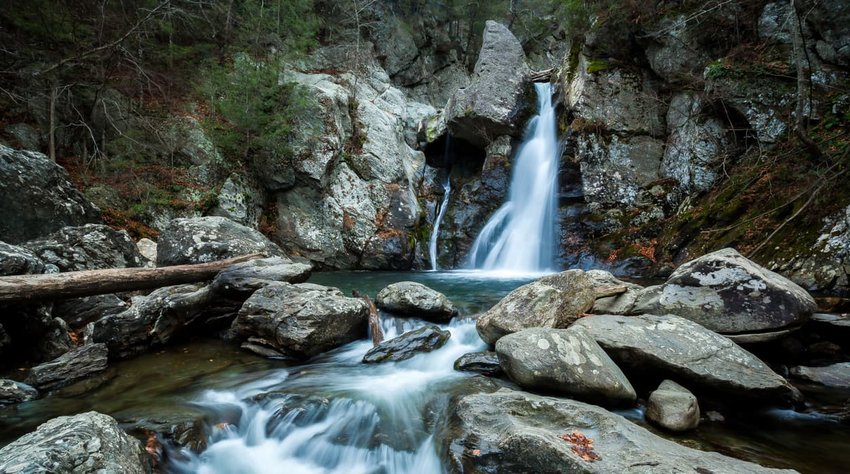 Bash Bish Falls is the highest single-drop waterfall in the state of Massachusetts, so it comes as no surprise that the state would want to protect it. Although its namesake waterfall is the park's main attraction, Bash Bish also features several lush gorges and an eastern hemlock ravine forest.
Park Highlights: Hike the 2.1-mile trail to Bash Bish Falls and spend the afternoon hanging out by a 60-foot waterfall.
Tahquamenon Falls State Park, Michigan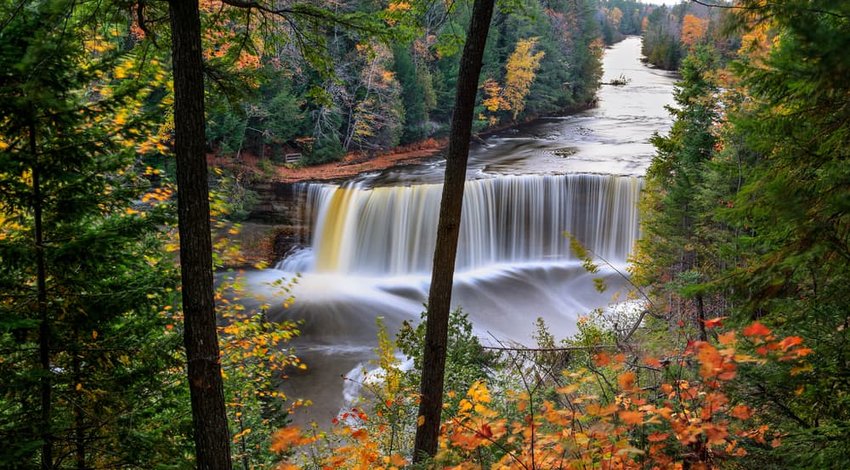 Sure, Michigan is the Great Lakes State, but if you're looking for what Michiganians describe as "paradise" you'll need to head to the Upper Peninsula and explore Tahquamenon Falls State Park. Home to one of the largest waterfalls east of the Mississippi, Tahquamenon Falls is 200 feet wide, has an average waterflow of 50,000 gallons per second and sits within 52,000 acres of undeveloped woodland.
Park Highlights: Hike to Upper Falls, the park's most popular waterfall, or traverse the four-mile trail along the river to Lower Falls, which consists of five smaller falls flowing around an island.
Tettegouche State Park, Minnesota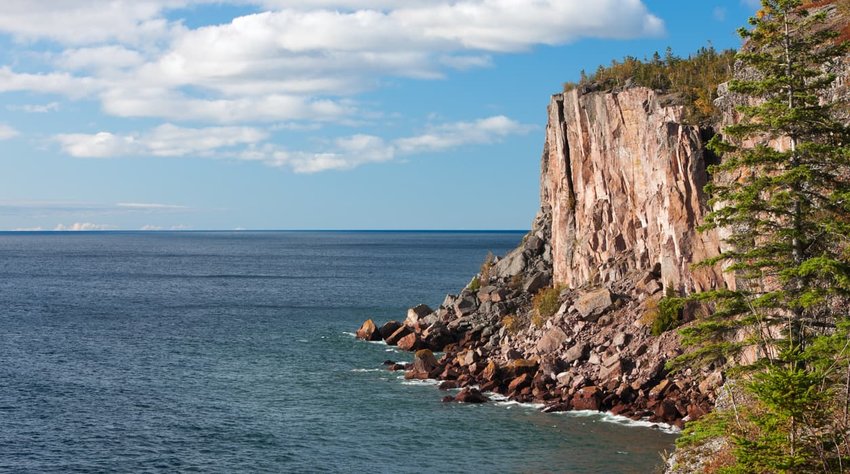 Welcome to the cherished Lake Superior shoreline. Tettegouche State Park is a 9,300-acre park that highlights a mile of Lake Superior coastline, six inland lakes and four distinct waterfalls along the Baptism River. High Falls, a 70-foot waterfall and the highest waterfall in Minnesota, is found in Tettegouche State Park, alongside miles of undeveloped wilderness.
Park Highlights: Hike along the Cascade Trail to the Cascades Waterfall or drive to the top of Palisade Head for panoramic views of the illustrious Lake Superior.
Tishomingo State Park, Mississippi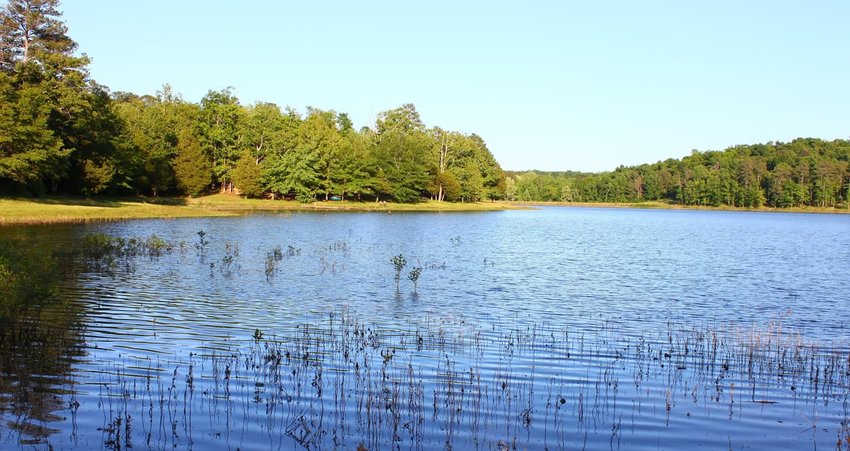 Nestled in the foothills of the treasured Appalachian Mountains, Tishomingo State Park is an eclectic mix of enchanting fern-filled crevices and large rock formations. Rich in Native American history, archaeological excavations confirm that Tishomingo was once home to Paleo Indian inhabitants dating back to 7000 B.C.
Park Highlights: Drive along portions of the famed Natchez Trace Parkway, a national parkway that honors the historic Old Natchez Trace used by Native Americans for centuries.
Lake of the Ozarks State Park, Missouri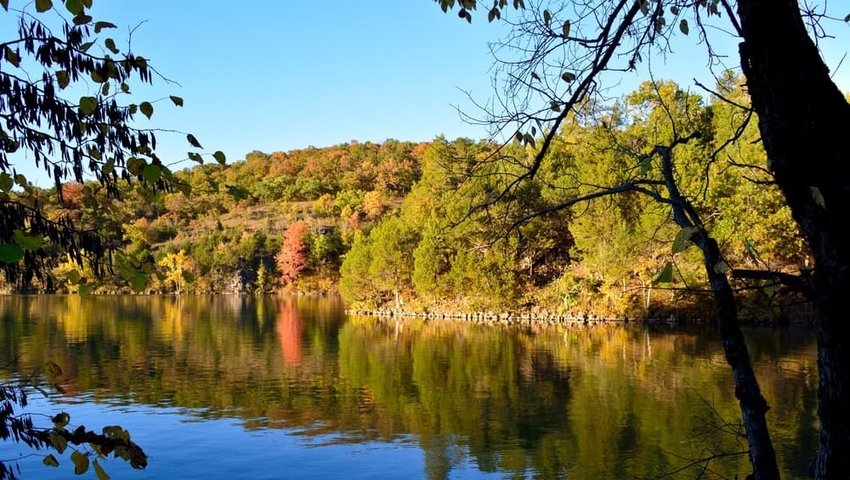 Just south of Osage Beach on the Grand Glaize Arm of Lake of the Ozarks is Missouri's largest state park – Lake of the Ozarks State Park. The park offers 85 miles of shoreline, 12 hiking trails, two public beaches, several boat launching areas, and 17,441 acres of oak-hickory forest and grassy meadows.
Park Highlights: Beat the heat by heading underground to the Ozark Caverns and witnessing Angel Showers, a rare cave phenomenon that causes a never-ending stream of water to fall from a solid ceiling of rock.
Giant Springs State Park, Montana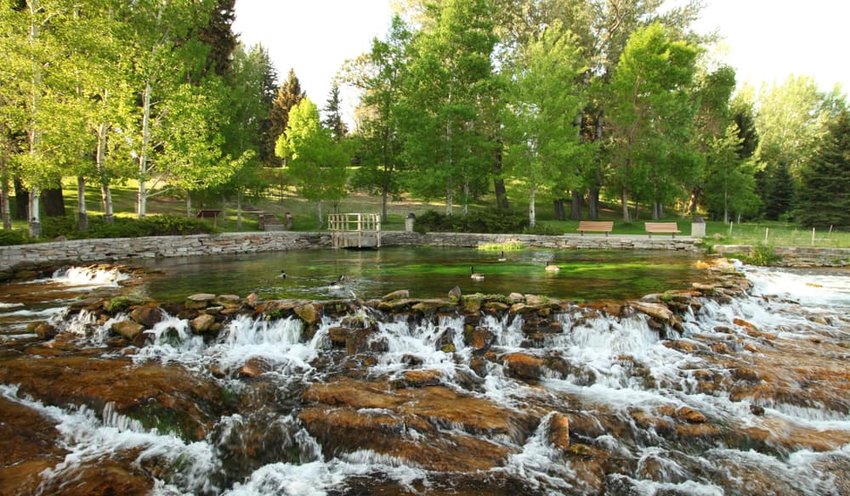 We have Lewis and Clark to thank for Montana's most popular state park, Giant Springs State Park. The park's crown jewel, a giant spring, is one of the largest freshwater springs in the country and pumps 156 million gallons of crystal clear water from Madison Aquifer per day. The park also features 4 waterfalls, 20 miles of trail, 5 hydroelectric dams, and 4,500 acres of land to explore.
Park Highlights: Drop by the Rainbow Falls Overlook to view 47-foot Rainbow Falls or visit other popular points of interest like Ryan Dam and the Great Falls.
Fort Robinson State Park, Nebraska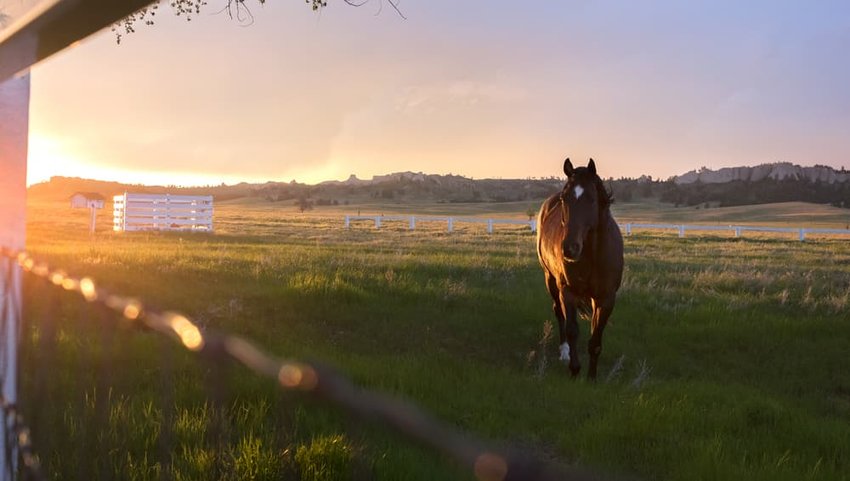 Centered around an old military fort, Fort Robinson State Park encompasses more than 22,000 acres of stunning scenery. Between the preserved buildings of the old fort you'll find campgrounds, Pine Ridge scenery, and herds of roaming buffalo. This park has been named one of the best spots for family reunions in the country, and for good reason. From horseback riding to canoeing to swimming, there's endless opportunities for fun.
Park Highlights: Visit the historic buildings at Fort Robinson, including former barracks and military cemetery, before joining an open-air Jeep ride among the buttes.
Valley of Fire State Park, Nevada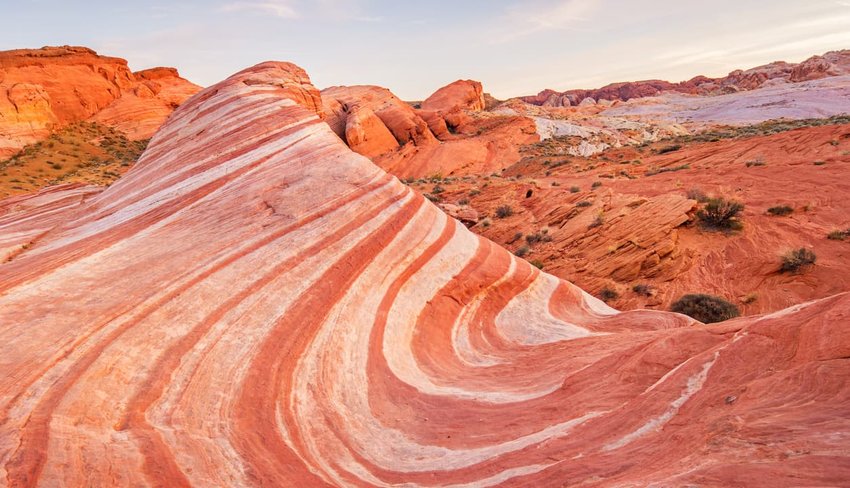 Quite possibly the closest thing to landing on Mars, Valley of Fire State Park offers 40,000 acres of otherworldly red-rock formations to admire. Nevada's oldest state park, Valley of Fire contains petrified trees and petroglyphs dating back 2,000 years, as well as sandstone rock formations that were formed during the age of the dinosaurs.
Park Highlights: Hike the 2-mile scenic loop trail to Arch Rock, a natural sandstone arch that was carved into the landscape throughout many millennia. Or, drive the Valley of Fire Scenic Byway and experience miles of geographical anomalies.
Franconia Notch State Park, New Hampshire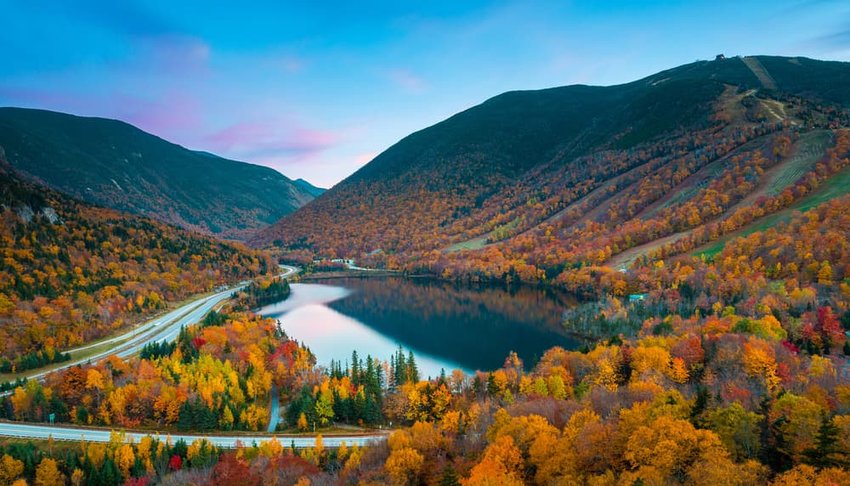 Located in the heart of the White Mountains, Franconia Notch State Park is bounded by the incredible Flume Gorge and Echo Lake. The park was home to the famous Old Man of the Mountain, a series of five granite cliff ledges that collapsed in 2003.
Park highlights: Take a walk through the 800-ft Flume Gorge or experience Avalanche Falls, a 45-foot waterfall, at the top of the canyon. Less adventurous travelers can also jump on the Aerial Tramway to the summit of Cannon Mountain and take in panoramic views of mountain ranges spanning four states.
Liberty Park State Park, New Jersey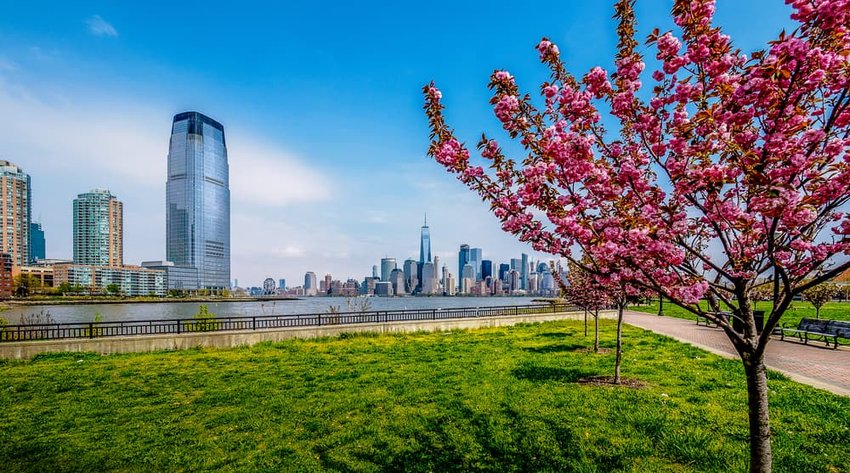 A small slice of heaven hidden within Metropolitan New Jersey, Liberty State Park is the place to go for incredible views of the Manhattan skyline, Statue of Liberty and Ellis Island. Located on the Upper New York Bay, the park spans 1,212 acres of preserved land that was once occupied by the bustling railroad industry. Today, visitors can still experience the historic CRRNJ Terminal building, which served as the main passenger terminal for the Central Railroad in New Jersey for over 80 years.
Park Highlights: Visit the "Empty Sky" Memorial, which honors the memory of 749 people who lived in or were closely affiliated with New Jersey and lost their lives at the World Trade Center on September 11, 2001.
City of Rocks State Park, New Mexico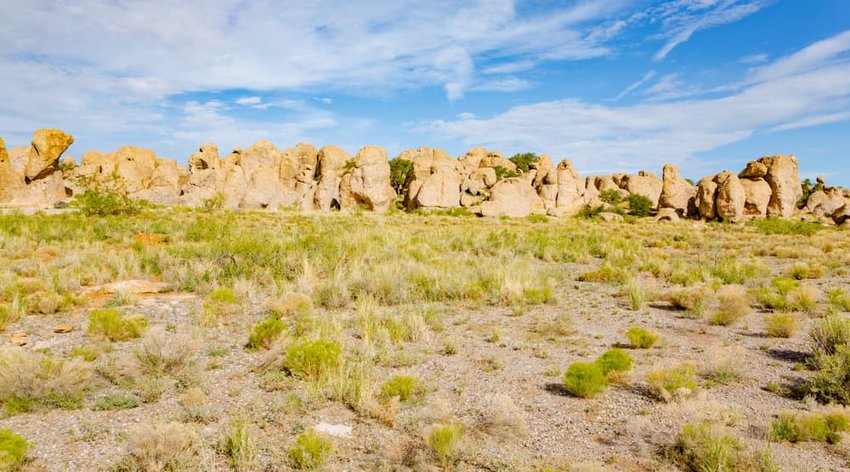 New Mexico likes to keep things simple, so just as its name implies, City of Rocks State Park consists of incredible geological rock formations that were sculpted by a volcanic eruption 34 million years ago. The park sits at 5,200 feet and encompasses area in the scenic Chihuahuan desert region of Southwestern New Mexico.
Park Highlights: Visit the first state park astronomical observatory in New Mexico to view planets, stars, and constellations.
Letchworth State Park, New York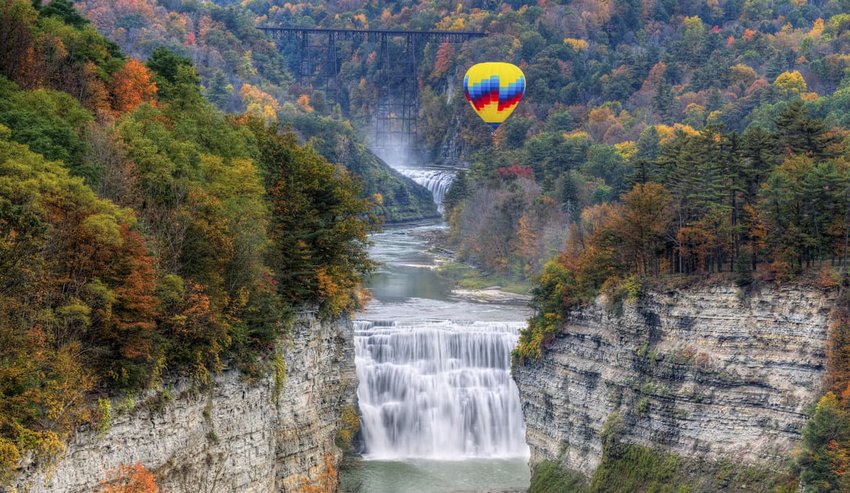 You were probably expecting to see Niagara Falls on this list, but after being named the top state park in the United States, we couldn't leave Letchworth State Park off the list. The renowned "Grand Canyon of the East," Letchworth State Park spans roughly 17 miles and 14,427 acres of New York wilderness. The Genesee River thunders through the gorge over three major waterfalls – the Upper, Middle, and Lower Falls and its towering walls reach 550-feet.
Park Highlights: Follow the 7-mile Gorge Trail, which traces the Genesee River and passes picturesque waterfalls and vistas like Inspiration Point.
Jockey's Ridge State Park, North Carolina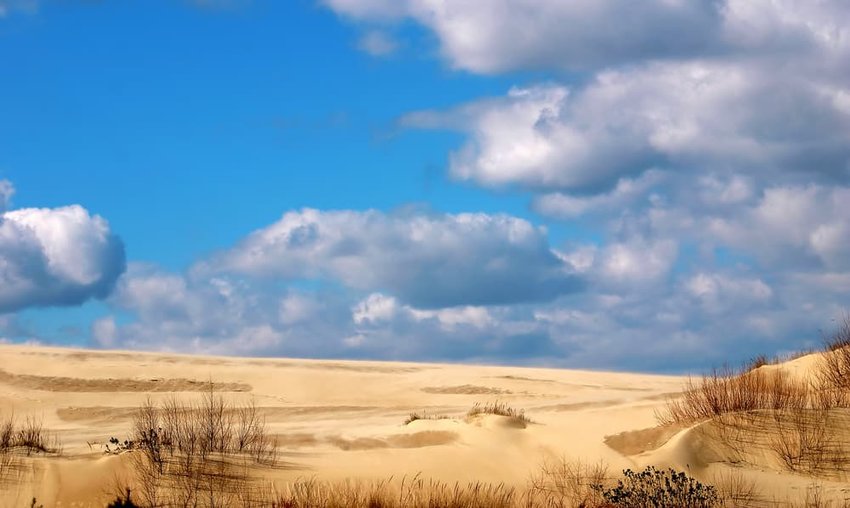 The Great Smoky Mountains get a lot of love, and rightfully so, but did you know North Carolina is home to 41 beautiful state parks – one of which, Jockey's Ridge, is the tallest natural sand dune system in the Eastern United States. Jockey's Ridge contains three diverse ecosystems to explore: the Roanoke Sound, the dune system, and the maritime forest.
Park Highlights: Hike to the top of Jockey's Ridge, and sandboard or hand glide your way back to the car!
Fort Ransom State Park, North Dakota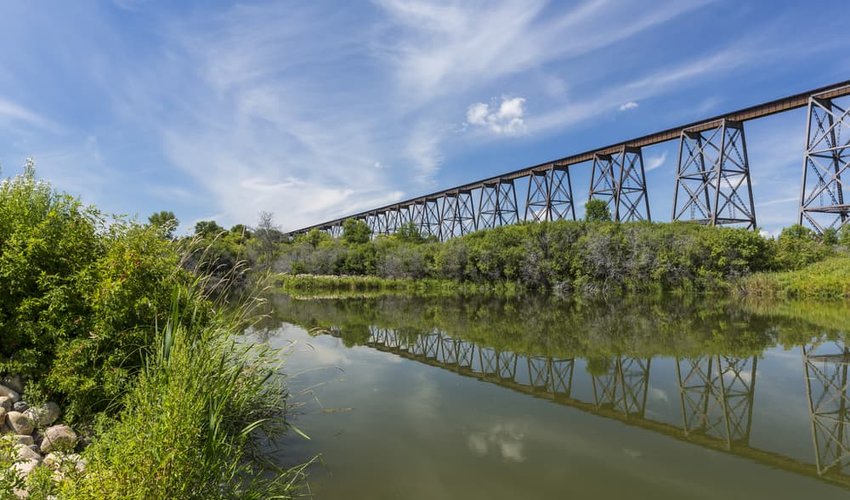 Tucked within the Sheyenne River Valley, along the Sheyenne River Valley National Scenic Byway, Fort Ransom pays tribute to North Dakota's homesteader heritage. More than half of the 887-acre park is heavily wooded and preserved wilderness, but a 14-mile network of trails allows for ample hiking, horseback riding, biking, cross-country skiing and snowshoeing.
Park Highlights: Canoe on the Sheyenne River or hike portions of the North Country National Scenic Trail that winds through the park.
Hocking Hills State Park, Ohio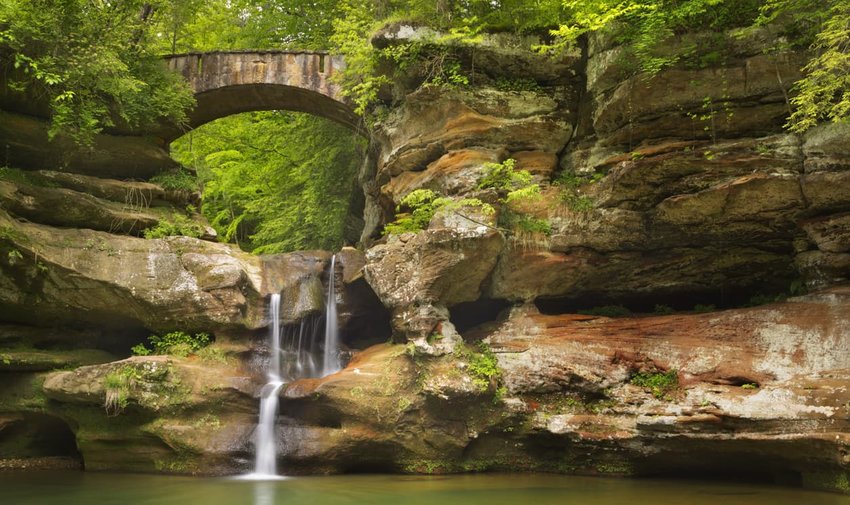 Recessed caves, anyone? Unlike most parks, Hocking Hills is a non-contiguous state park with 7 distinct areas to explore: Ash Cave, Cantwell Cliffs, Cedar Falls, Conkle's Hollow, Old Man's Cave, Rock House, and Whispering Cave. This spectacular wilderness, full of cascading waterfalls, recessed caves, spectacular rock formations and pristine wilderness, was crafted by the Atlantic Ocean and the Appalachian Mountains over 330 million years ago.
Park Highlights: Make the trek to Old Man's Cave or hike the Grandma Gatewood Trail that begins at Upper Falls and connects Old Man's Cave with Cedar Falls and Ash Cave.
Lake Murray State Park, Oklahoma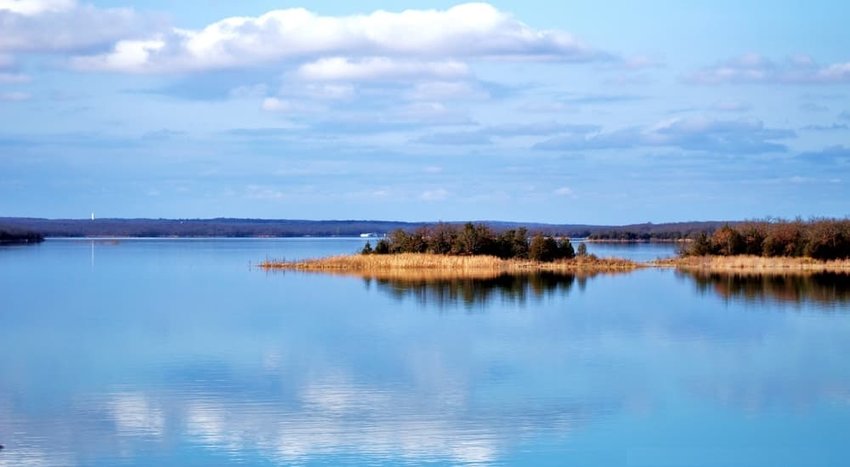 The first and largest state park in Oklahoma, Lake Murray State Park stretches 12,500 acres, half of which is the lake itself. Lake Murray's crystal-clear spring-fed waters and 150 miles of shoreline welcome a variety of outdoor recreation opportunities including hiking, biking, boating, fishing, and camping.
Park Highlights: Drive the scenic highway (77S) that passes through the entire park or visit Tucker Tower, a museum that sits on a cliff overlooking Lake Murray.
Silver Falls State Park, Oregon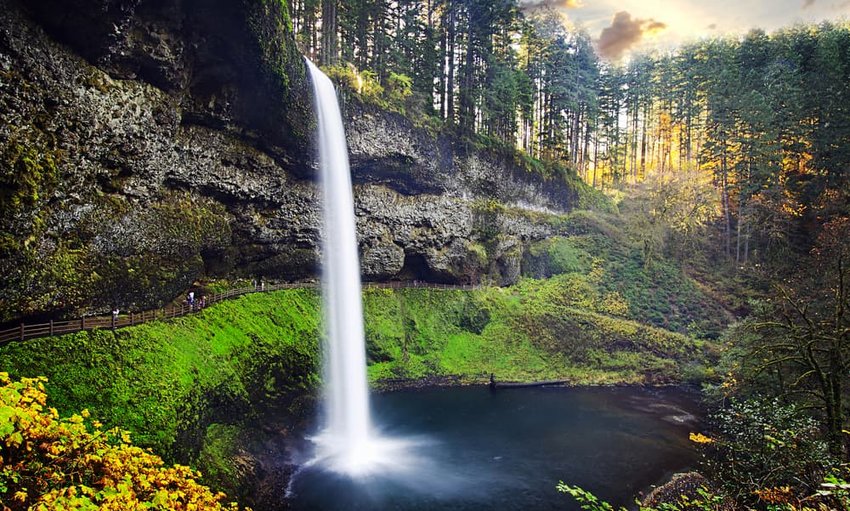 Tucked in the foothills of Oregon's Cascade Mountains lies Silver Falls State Park, the crown jewel of the Oregon State Park system and largest state park in the state. Walk above, behind, and around 10 distinct waterfalls, some of which are more than 100 feet tall.
Park Highlights: Hike the Trail of Ten Falls, a nationally recognized trail that travels through pristine forest and passes several cascading waterfalls. Then take a quick trip over to the notorious South Falls, a 177-foot waterfall that is accessible via a short, paved walking path.
Ricketts Glen State Park, Pennsylvania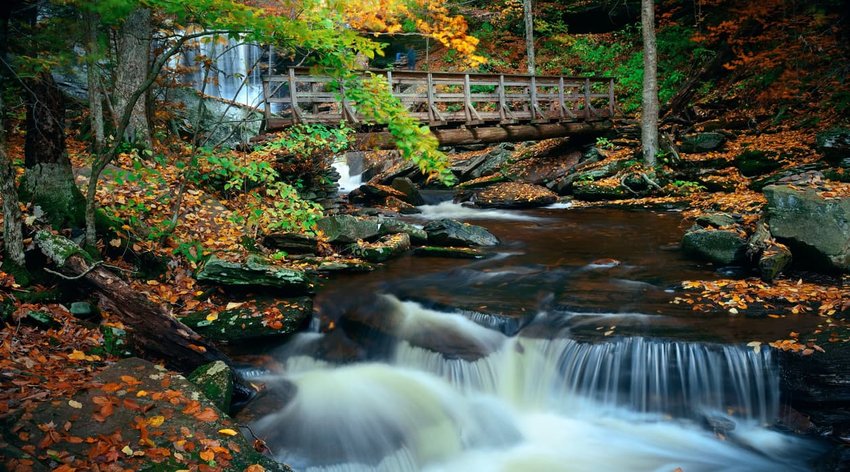 When funding fell through during WWII, and Ricketts Glen didn't receive National Park designation, Pennsylvanians saved the day by purchasing the land to preserve and protect it. Today, Ricketts Glenstretches for 13,050 acres and is home to 26 miles of trails, trees dating back 300 years, and 24 impressive waterfalls.
Park Highlights: Hike the Falls Trail, a 7.2-mile trail that features 21 waterfalls ranging from 11 feet to 94 feet tall; Ganoga Falls being the tallest.
Lincoln Woods State Park, Rhode Island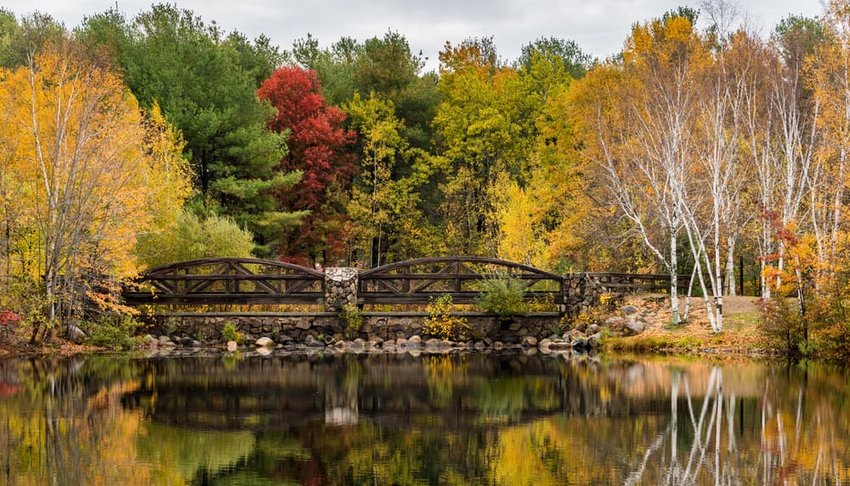 What it lacks in size, Lincoln Woods State Park certainly makes up for in beauty. A 627-acre woodland oasis just outside of Providence, Lincoln Woods is a popular retreat for northeastern Rhode Islanders. The park surrounds Olney Pond, a 128-acre reservoir, and is best-known for its elaborate equestrian trails and bouldering opportunities, but also features one of the area's largest freshwater beaches.
Park Highlights: Hike into one of the largest roadless areas in the eastern United States known as the Pemigewasset Wilderness. Note – Lincoln Woods is notorious for having many unmarked trails, so we advise that you use a GPS device or speak to a park ranger prior to hiking in the area.
Myrtle Beach State Park, South Carolina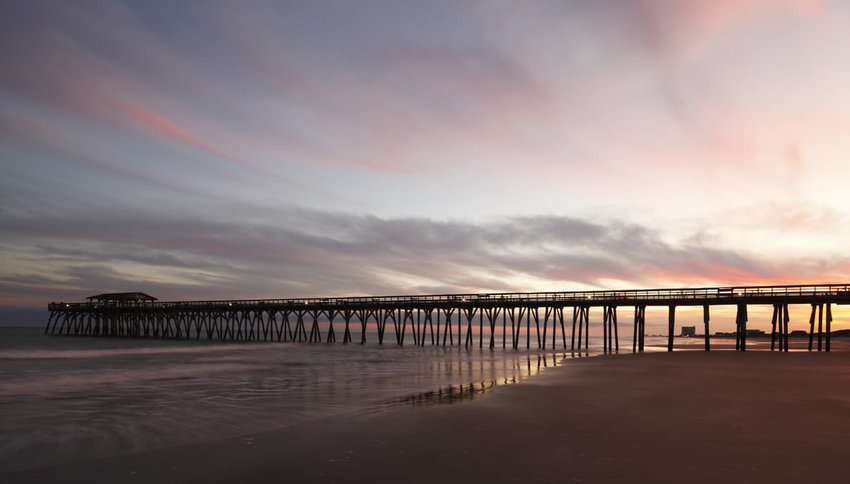 Around 80,000 acres of protected land stretches from the Blue Ridge Mountains to the sand dunes of the Atlantic Ocean in South Carolina. A small piece of that protected land, Myrtle Beach State Park, sits along the Grand Strand coastline. The park's unique maritime forest is a well-preserved Heritage Trust Site that features live oak and southern magnolias.
Park Highlights: Hike along the Sculptured Oak Nature Trail to experience one of the last strands of maritime forest on the northern coast of South Carolina or visit the Myrtle Beach Pier for stunning ocean views.
Custer State Park, South Dakota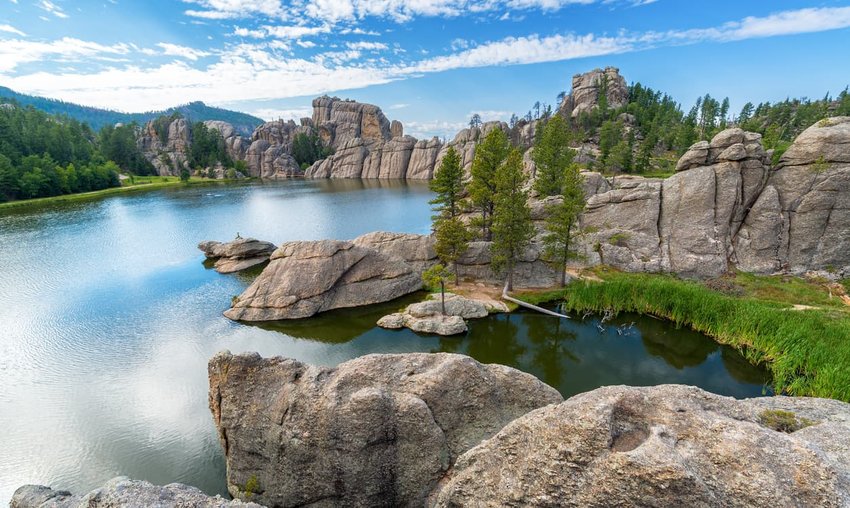 You might be heading to South Dakota to catch a glimpse of Mount Rushmore, but while you're out exploring the Black Hills, there's another South Dakota gem you'll want to add to your bucket list. Named one of the World's Top Ten Wildlife Destination and one of the country's largest state parks, Custer State Park is 71,000 acres of granite cliffs, rolling plains, beautiful mountain wilderness.
Park Highlights: Drive the Wildlife Loop to see a variety of wildlife including bison, antelope, mountain goats, bighorn sheep, and elk. Or, drive along Iron Mountain Road for incredible, panoramic views of the Black Hills and unique vantage points of Mount Rushmore.
Fall Creek Falls State Park, Tennessee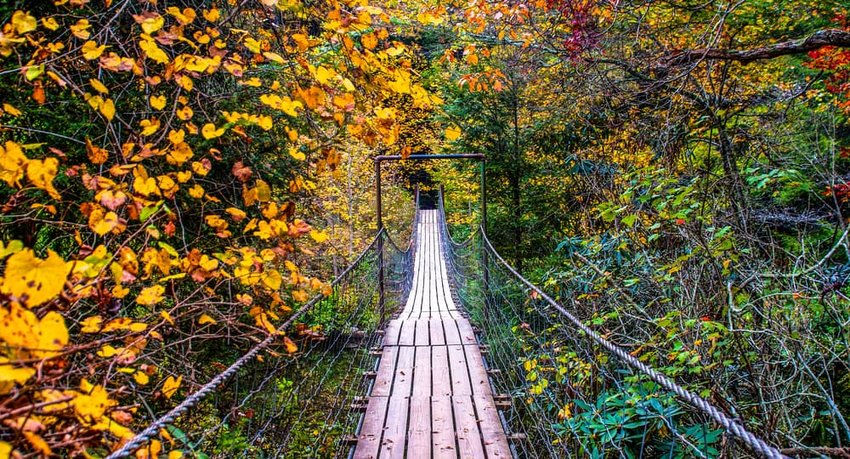 Seeing as Fall Creek Falls State Park is Tennessee's largest and most popular state park, you'd never guess that in 1937, the land surrounding Fall Creek Falls was so severely eroded that the federal government and Civilian Conservation Corps had to step in to restore it. Today, the park contains more than 26,000 acres of preserved wilderness and is home to 256-foot Fall Creek Falls, one the tallest waterfalls in the eastern United States.
Park Highlights: Visit Fall Creek Falls or other noteworthy waterfalls in the park including Piney Falls, Cane Creek Falls, and Cane Creek Cascades.
Palo Duro Canyon State Park, Texas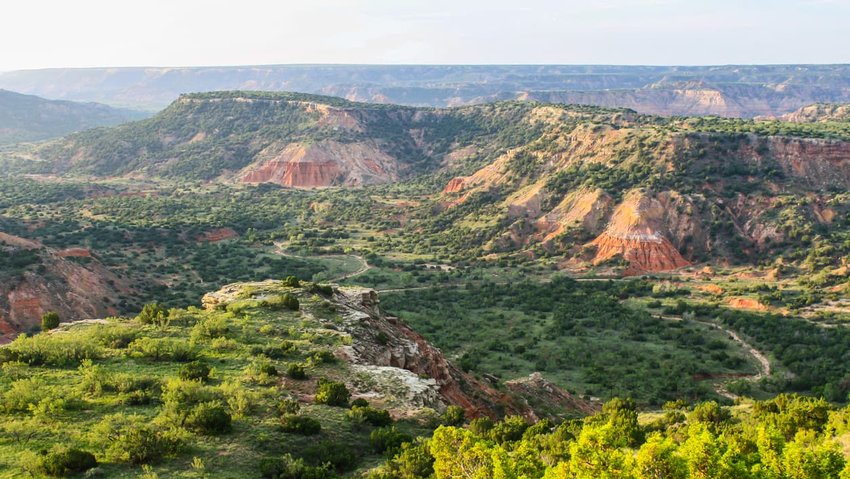 Palo Duro Canyon lives up to the Texas hype. Known as the "Grand Canyon of Texas," Palo Duro Canyon, at 120 miles long and 20 miles wide, is the second largest canyon in the country. The park offers 30 miles of hiking, biking, and equestrian trails, many of which traverse million-year-old rock formations.
Park Highlights: Experience park favorites like the Civilian Conservation Corps Trail, Old West Stables, the Lighthouse Trail, and the Cowboy Dugout.
Dead Horse Point State Park, Utah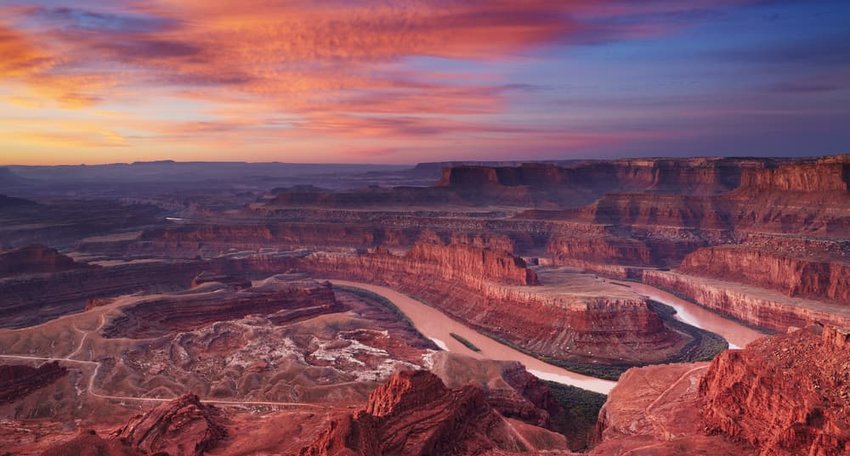 Despite its grisly name, the view from Dead Horse Point remains one of the most scenic vistas in the world. Towering 2,000 feet above the Colorado River, Dead Horse Point is an iconic peninsula of rock sitting on top of incredible vertical sandstone cliffs that was formed by geological activity millions of years ago. Legend has it, the area surrounding Dead Horse Point was once used to corral wild mustangs roaming the mesa top, some of which succumbed to the elements.
Park Highlights: Pack a camera and drive along Dead Horse Point Scenic Byway to experience the park's deep canyons and ridges via a variety of scenic overlooks, including the most notable overlook: Dead Horse Point Overlook.
Smugglers' Notch State Park, Vermont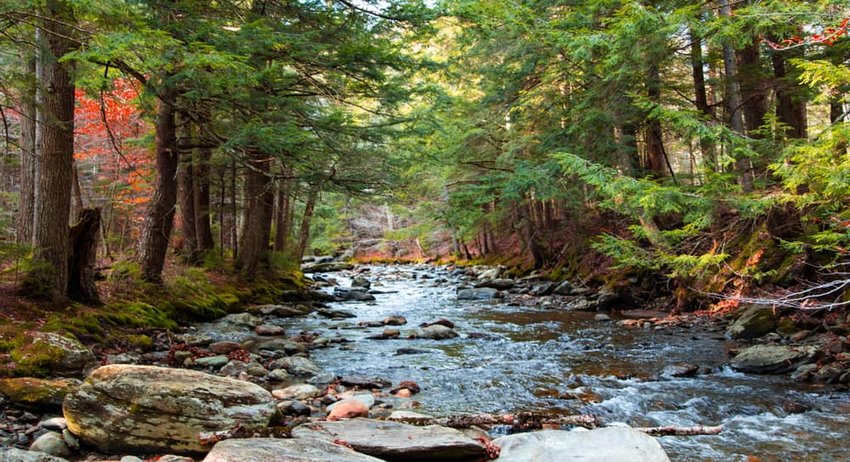 In the 1800's, President Thomas Jefferson passed an embargo act forbidding trade with Canada. Northern Vermonters were less than enthusiastic about the embargo, so they created a narrow pass, aptly named Smugglers' Notch, through the Green Mountains to illegally trade with our neighbors to the North. Today, Smugglers' Notch State Park remains a popular park that pays tribute to the historical, picturesque landscape of our ancestors.
Park Highlights: Walk along the wetlands boardwalk near the Barnes Camp Visitor Center or climb to the top of Sterling Mountain and hang out at the highest trout pond in Vermont via the Sterling Pond Trail.
First Landing State Park, Virginia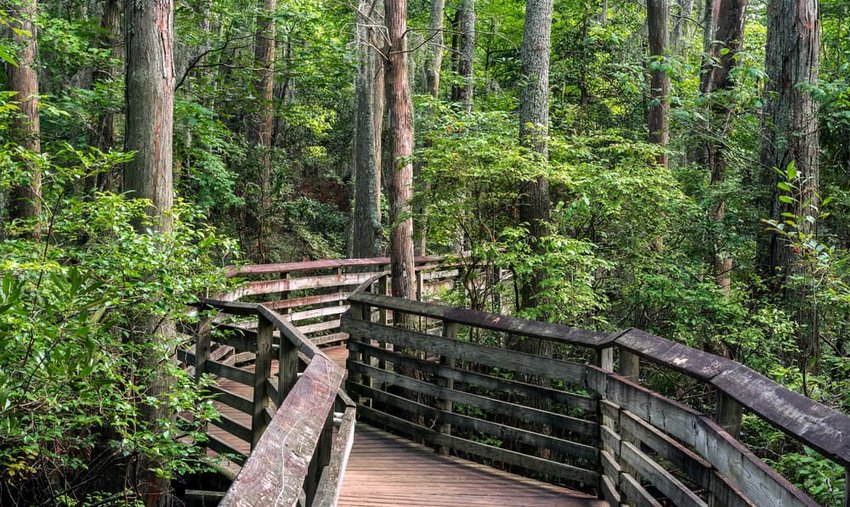 There's no denying that Virginia is an American history icon, so it makes sense that the state's most popular state park would be chock-full of historical significance. Located on the Chesapeake Bay, the 2,888-acre First Landing State Park is, as the name suggests, where English colonists first landed in 1607. The park provides opportunities to explore lagoons, cypress trees, and one of the most endangered habitat types in the world, the maritime forest.
Park Highlights: Did someone say pirates? Probably. Rumor has it that Blackbeard's treasure might be buried here. Drop by First Landing State Park Trail Center to learn more interesting facts about the park and access popular hiking trails.
Deception Pass State Park, Washington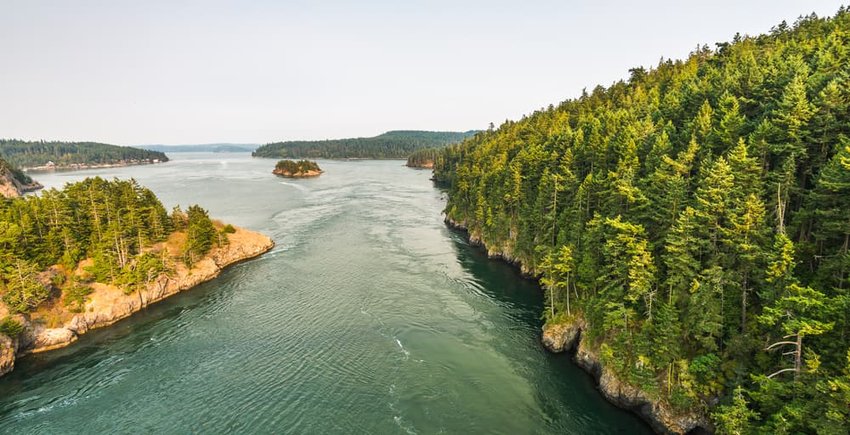 With a whopping two million visitors a year, Deception Pass State Park is said to rival nearby National Parks. The park covers 3,854 acres and spans from the northern tip of Whidbey Island to Fidalgo Island at the north end of the Puget Sound. Visitors will generally cross the iconic high bridge over Deception Pass, a National Scenic Monument, to enjoy 35 miles of trails, 14.6 miles of saltwater shoreline, three lakes, and immerse themselves in highly-revered Washington wilderness.
Park Highlights: The most iconic location in the park, and arguably most photographed place in Washington, is the Deception Pass Bridge. To beat the crowds, arrive early in the morning.
Blackwater Falls State Park, West Virginia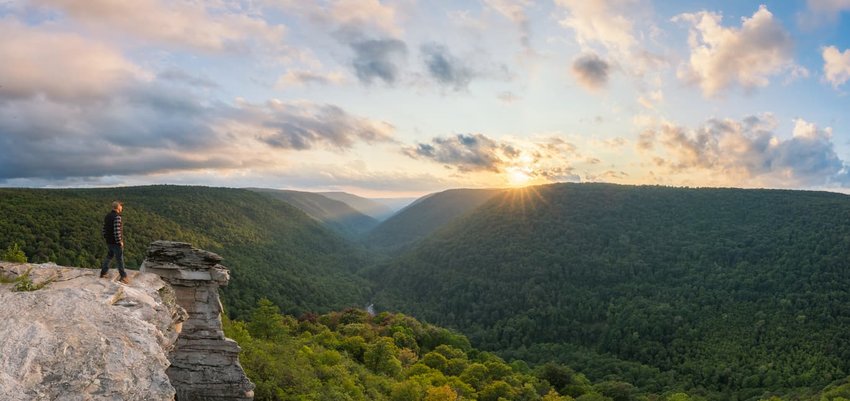 Home to some of the most visited and photographed sites in West Virginia, Blackwater Falls State Park was named for the amber waters of 57-foot Blackwater Falls. The falls are tinted by tannic acid from fallen hemlock and red spruce needles and are highly revered as a natural wonder of West Virginia.
Park Highlights: Visit Blackwater Falls, the main attraction in the park, or drop by Elakala Falls, Lindy Point or Pendleton Point Overlook.
Devil's Lake State Park, Wisconsin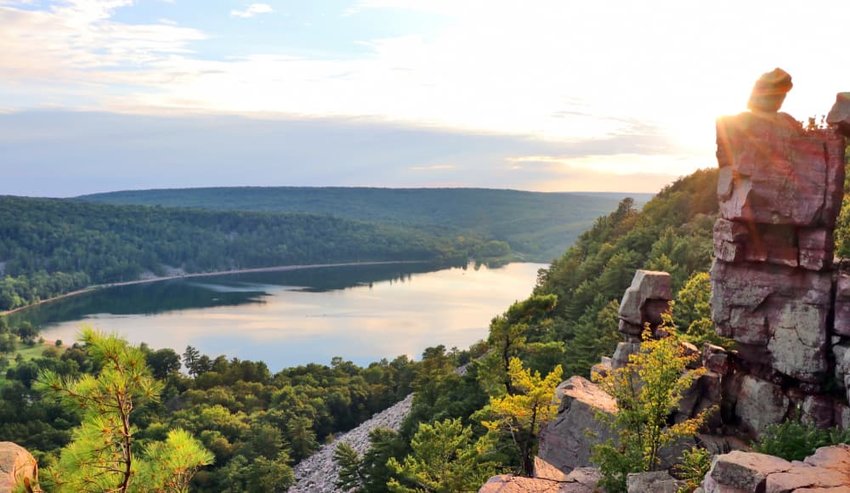 One of only 77 Last Great Places in the world, according to the Nature Conservancy, Devil's Lakeencompasses 9,217 acres and is Wisconsin's largest state park. Devil's Lake was created over 15,000 years ago when the Wisconsin Glacier blocked both ends of the Wisconsin river gorge. Today, the pristine blue waters of Devil's Lake, and rocky bluffs that surround it, draw over a million visitors a year.
Park Highlights: A variety of unique quartzite rock formations can be found throughout the park, but the 500-foot Quartzite bluffs overlooking Devil's Lake are the area's most popular attraction.
Buffalo Bill State Park, Wyoming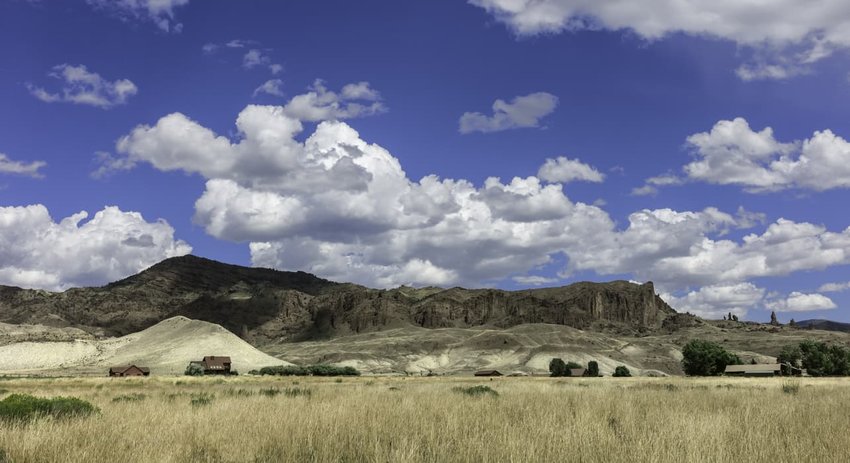 Next time you're in route to Yellowstone National Park, take a quick detour to Buffalo Bill State Park, a park known for being entrenched in the folklore of the old West. Buffalo Bill occupies the Shoshone Canyon portion of the Shoshone River, is surrounded by the Rocky Mountain Absaroka Range and offers over 9,000 acres of water recreation options.
Park Highlights: Visit the 325-foot Buffalo Bill Dam, the largest in the world at the time of its completion.